Broadcast & Social Media Resources
Thank you for joining our campaign to house the over 50,000 soldiers who are still abandoned and forgotten on the streets of our nation. Below are resources to help you accomplish this mission.  If you have any questions you can email Jean at veterans matter dot com.  Thank you.
1) Latest Campaign Press Release:  Kix Brooks Joins Veterans Matter
2) Veterans Matter Campaign Backgrounder for Live Talent: VM Public Service Background and Copy for Broadcast Talent
3) Kix Brooks Radio Spot #1: 60,000 Soldiers Housed: Kix Brooks#1
4) Kix Brooks Radio Spot #2  60,000 Soldiers Housed Kix Brooks #2
5) Dusty Hill Radio Spot #1: 60,000 Soldiers Housed Dusty Hill #1
6) Kix Brooks Social Media video 2014:
7) Dusty Hill of ZZ Top Social Media Video #1:

8) "Home Again: In Their Own Words" — John Mellencamp Introduces Veterans Housed by Veterans Matter

9) "Veterans Matter: How It Works" Featuring Dusty Hill

10) Veterans Matter and Campaign Logos: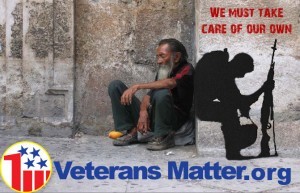 11) Operation Logos




.
.
.
.
.
.
.
.
.
.
.
.
.
.
.
.
.
.
.
.
.
She has been in a shelter for 4 years, since Hurricane Ike hit Galveston Island.  She has mental health issues that make working and staying focused difficult but she got into a program that provides her with two meals a day, counseling and a voucher that lets her stay at the Salvation Army.  She stuck with that (with a few bumps along the way) for four years. With HUD-VASH and Veterans Matter I was able to get her on my list and when a voucher opened up she was first to get one.  She has no furniture but she has a place of her own, away from the areas where the old habits are; and today I'll get her a bus pass so she can get around and really start working on getting a job and working on getting her other benefits established (she kept losing her paperwork and missing her follow-up visits with SSA).  Of my caseload she has the most need, so you guys took a big load off of me and helped a good person.  Thanks again and God bless you and the rest of your crew.
Miguel Ortega – HUD/VASH Case Manager -
Michael E. DeBakey VA Medical Center
"Mr. Leslie,
I truly want to thank you and your music industry backers. For this Social worker working with our hero's, your organization has filled a gap of financial services that had been missing in helping our Veterans. So thank you and your backers for making my job a little easier to place our hero's in appropriate housing as soon as possible.
Kathleen, LCSW – VASH Program – Michael E. DeBakey VA Medical Center