THE URGENT NEED
UPDATE: IN THIS TIME OF CRISIS THE HOMELESS VETERANS NEED US NOW MORE THAN EVER.
The first two needs for survival are food and shelter. Let's give them shelter.
It's simple: When you know Veterans will die if you don't, you just do.
The Veterans with other resources use those resources.
WE ARE HERE TO HELP THE ONES WHO HAVE NOWHERE ELSE TO GO!
VETERANS HOUSED
As of Today
See Your Donation Work Daily
HOVER over a state to see how many Veterans have been housed, and the number of housing vouchers allocated to house the homeless veterans/families in that state.
---
CLICK a state to see the Founding and Funding Advocates, and history for that Area of Operation. 
Veterans Housed and Needs By State

Statewide Needs Analysis
Meet Some of the Veterans You Helped House
Attention Allies and Advocates
America is the Land of the Free and Home of the Brave. One of the bravest things one can do is put on the uniform to risk all to defend their country. Many of those brave are hurting right now; living on the streets of our nation where they have been beaten, robbed, even killed. Yet if this happened behind enemy lines, we would be outraged.
Our mission is simple, house as many homeless veterans as we can, as fast as we can. And that we've done 5,000+ times to date.
Our method is just as simple,

unite those of us who feel called to help homeless veterans

into one cohesive force to successfully return more veterans to a home for the brave in the land of the free.
Click below to keep up to date with our newsletter, to become an Ally getting the word out, or to donate and be Advocate.

We need your help. Veterans Matter — We take care of our own.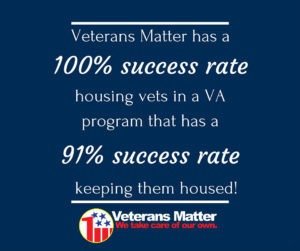 EVERY dollar we deploy results in another homeless veteran or veteran family with children housed.
This is PERMANENT supportive housing and if needed, VA provided 360°wrap-around services.
Thanks to the support of over 20 artists and celebrities who simply care about homeless veterans as much as we do, who are working to raise money and awareness, each of the 37,787 veterans still on the streets have a chance for a place called home. The program has grown to where it is today. This growth has been well documented in the local and national press.
Help our Celebrity Advocates get the
WORD OUT
26% of those we have housed are the veteran's children.