VETERANS HOUSED
As of Today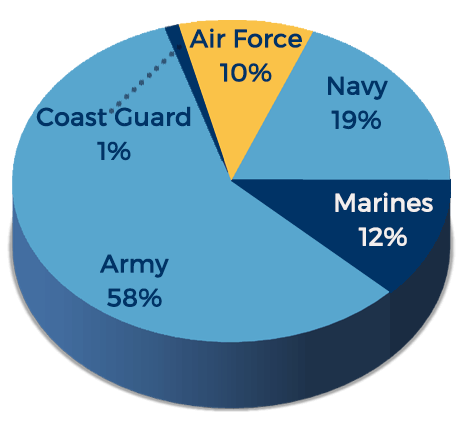 Veterans Housed By Branch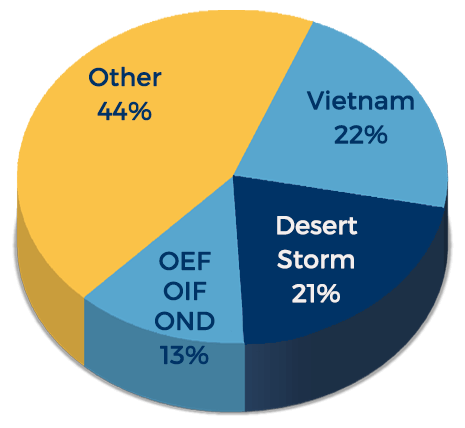 Veterans Housed By Era
Veterans Matter partners with VA homeless programs nationally to help get homeless veterans off the streets and into long term housing.
Click to see Veterans Housed by State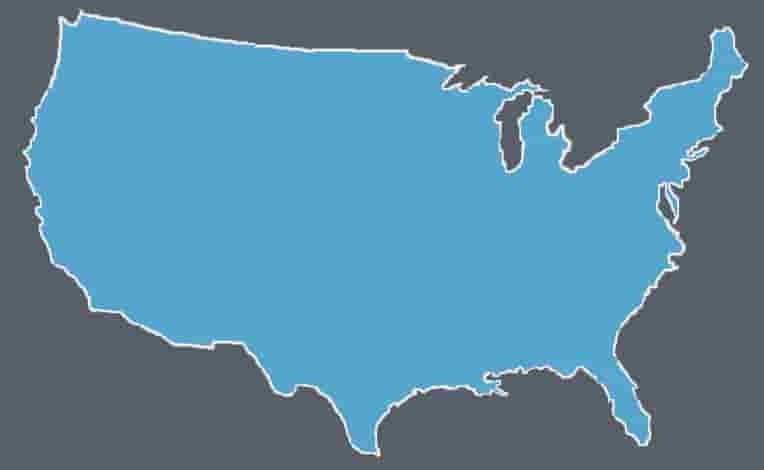 America is the Land of the Free and Home of the Brave. One of the bravest things one can do is put on the uniform to risk all to defend their country. Many of those brave are hurting right now; living on the streets of our nation where they have been beaten, robbed, even killed. Yet if this happened behind enemy lines, we would be outraged.
If you are looking for a veteran cause to support where you can see your donations at work daily, weekly, and monthly; that has documented administrative expenses of 8%; that is a BBB Accredited Charity – meeting all 20 Standards for Charity Accountability; has over 20 artists and celebrities raising money and awareness; has been well documented in the local and national press; and MOST IMPORTANTLY, has a 100% success rate using your donations to house veterans in a HUD-VA partner program that has a 91% success rate keeping them housed — you found it here, at Veterans Matter.
Please help us House more Heroes
We need your help getting the word out, raising funds, and making donations.
Veterans Matter — We take care of our own.
Veterans Matter National Collaborative Funding Network
Click a collaborator to see the impact you can have housing veterans
% of Donations Per Funding Advocate Type
Celebrity Impact
Operation Michigan was started by writer Mitch Albom who has donated over $35,000 to house Michigan veterans. With additional funding raised and donated by Katy Perry, Kid Rock, Exchange Club service groups and generous corporations – over 325 homeless Michigan veterans have been housed to date.

Also due in good measure to Mitch Albom's participation, Michigan-based First Nation/Jordan Reses, a very compassionate company, has donated over $500,000 to house veterans in Michigan, Colorado, Texas, Mississippi, Indiana, Florida, North and South Carolina, and Tennessee.
Operation Texas was started by Dusty Hill of ZZ Top when he convened a group of businessmen and women in Houston. To date, this small group of heroes has donated over $360,000 and housed over 700 veterans!

The same day John Mellencamp became chair of Operation Indiana, we received an anonymous $37,000 donation. This and following support has led to nearly 200 Indiana veterans housed to date.
The Latest On Social Media…