The Power of 1 – Taught By 1 Student With 1 Penny
One of Veteran Matters' living philosophies is the belief in the "Power of 1" to save and change lives.
Veterans Matter believe that YOU are the most powerful person on the planet. Even just your smile has the power to lead people. You truly can change the world, all you need to do is stand up.
That's it. Just stand up. Because you already have this most incredible power inside you– the Power of 1!
I spoke at the Veterans Day breakfast held at Ft. Meigs elementary school in Perrysburg, OH. It is near and dear to my heart because I grew up in Perrysburg and went to Perrysburg schools, so whenever I speak at a Perrysburg school, it takes me back to my roots.
But the students at Ft. Meigs? They are my teachers.
For the past 4 years the students there have been having "penny wars" to raise money to help us house the nation's unhoused veterans.
This year it raised $1412 dollars, and seventy-ONE pennies – enough to house two or three veterans in our area.
During a conversation with school principal Kellie Johnson I recognized this was a perfect example of the amazing power that each of us has to save and change the life-path of the veterans abandoned on the streets of this nation.
And I learned this lesson from 1 student, with 1 penny.
This was the entire content of my talk to the student body:
To each of you here, you, yes YOU, truly are one of the most powerful people on the planet. Isn't it amazing how YOU, 1 student, with 1 penny, together at 1 school, in 1 community, in 1 nation, housed 1 veteran! Yes, it was 1 student, YOU, with just 1 penny.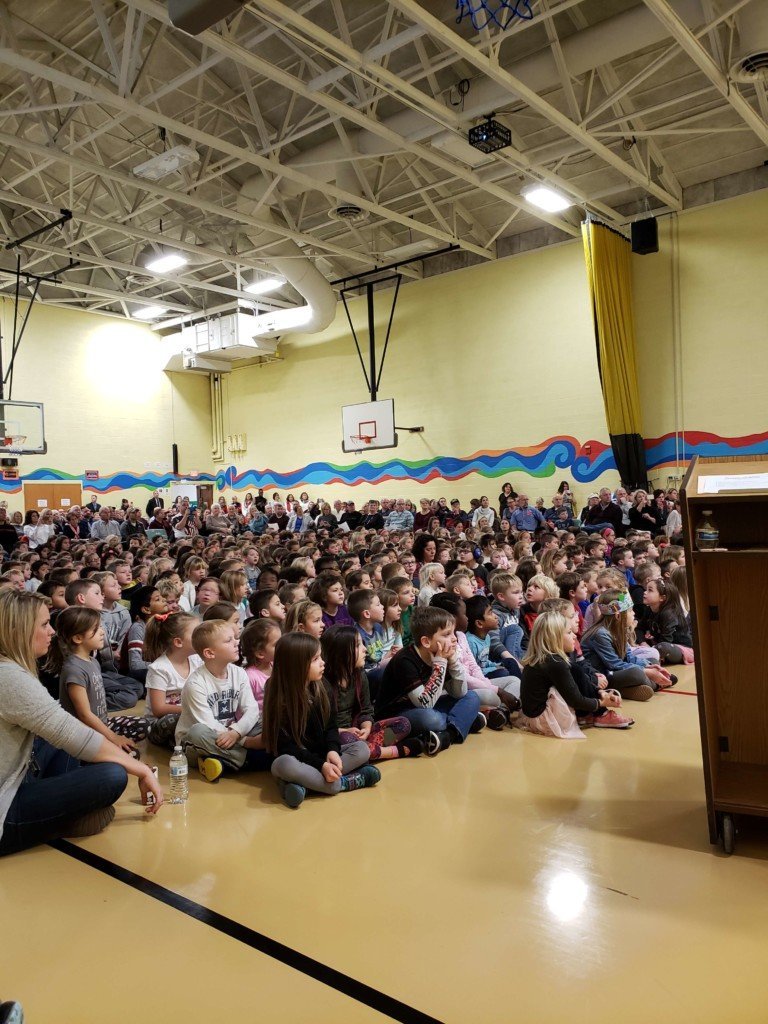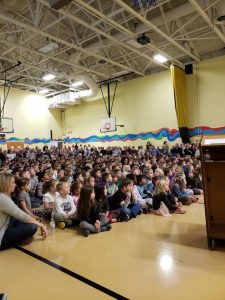 This is because every single 1 of your pennies that we deploy will result in another veteran housed, every time. So, every student, with every penny, houses 1 veteran, every time.
On behalf of every one of the veterans, or veteran families and their children whose life-path you have changed by giving them a permanent home for the brave in this land of the free, we say thank you. God bless America.
That was it. My shortest talk ever.
The Lesson I Learned
Driving back to the office I truly recognized the irrefutable, absolute power that even 1 student, with 1 penny has, to truly save AND change the life of one veteran.
No matter who you are or whatever cause you are called to help, you have this true power of 1 to save and change lives.
Whether you want it or not, YOU too truly have this same irrefutable, absolute, "Power of 1" already inside you.
If you are one of those who are called to care about the veterans, and veteran families with children on the streets, you can see how ANY donation, large or small, even 1 dollar, WILL save AND change the life of ONE veteran, absolutely. This is YOUR power of 1!
Whether you donate here, hold a Facebook fundraiser here, help us get the word out here, or organize your veterans' group, company, school or service group, or even have a "penny war" where ever you are, you will use your Power of 1.
And after you do, tell us how you feel right here.
Does it matter? Just ask the veteran or veteran family you have helped house if it matters? Let's ask them if the student's 1 penny mattered?
Yes, every 1 Matters, no matter the one.
I learned that from 1 student, with 1 penny.
Ken