We couldn't be more excited for this announcement:
On Leap Day, we housed our 1,000th veteran!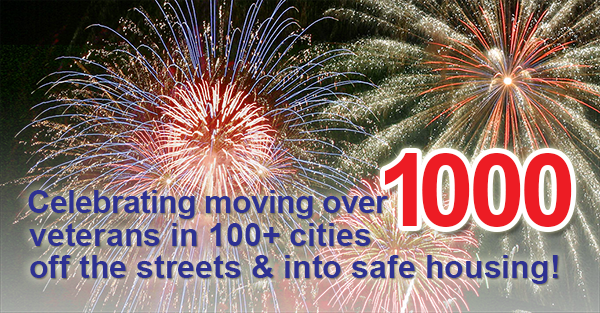 Veterans Matter was created to house 35 veterans in the Toledo area and has grown into a national movement – but our 1,000th vet happened to be from Toledo, as well.
We haven't met the local Army veteran yet but he signed his lease Monday! He will also receive a $100 gift card to The Andersons, where he can pick up some groceries or bath towels or whatever he needs for his new place.
We are honored to have had the chance to help 1,000 of our nation's heroes into their own homes, and we're beyond grateful to all of you for your help. Simply put: We wouldn't be able to house a single veteran without you.
So what's next?
We've got a lot in store for this year! Now that we've housed 1,000 veterans, we're going to start introducing you to some of them and to a few other key players in the Veterans Matter world. We're calling it "1,000 Stories That Need to Be Told." Watch for the first one coming soon!
We can't give away too much, but we're working to get a couple more big names in music to join our cause which could mean the opportunity for you to meet them!
But most importantly: We've still got 47,000 veterans to house! As excited as we are to have hit this milestone, we know we still have a long way to go until our mission is accomplished.
Thank you for helping us take care of our own.