The National Exchange Club, dubbed "American's Service Club," is working hard to find permanent housing for homeless veterans while promoting a love country.
Veterans Matter and the National Exchange Club kicked off a yearlong national fundraising campaign on Veterans Day (Nov. 11, 2018) with simultaneous events held in 50+ cities nationwide, including Toledo, Ohio and Lincoln Park, Michigan.
The annual event is called 11/11@7 and collectively organizers hope to raise enough money to house 200 homeless veterans over the next year. Veterans Day events were planned in Ann Arbor, Detroit, Washington D.C., Houston, Chicago, Indianapolis, Colorado Springs, New York City, Memphis, Oklahoma City and many more.
For example, the Exchange Club of Lincoln Park, Michigan recently raised over $20,000 — an incredibly patriotic donation.
Entering its fourth year, the Lincoln Park Exchange Club's Rally Against Veteran Homelessness has helped house more than 500 Michigan veterans and their families. This year's edition includes entertainment from local rockers Fifty Amp Fuse and Andrews Sisters tribute band In The Mood. Both groups are donating their time and talent to the event, a trend extending to the host venue.
"This whole program is run by donations," she said. "We do ticket sales, but the bands donated their time, the hall donated their time, all the raffle items are donated by businesses and friends. The Downriver community coming together to help us do this is nothing short of amazing."
The club's contribution will help Veterans Matter in housing over 27 veterans and their families. Click here to see more images from the event.
Here in Toledo, four local Exchange Clubs (Toledo, West Toledo, Maumee and Greater Maumee Bay, with the support of the Lucas County Commissioners and Lucas County Veterans Service Commission) hosted a USO-style event at Conn-Weissenberger American Legion Hall.
The evening will included dancing, raffles, a silent auction, chili cook-off and musical performance by Toledo duo Candice Coleman and Chris Brown. "War Bonds" were also sold to help fight the war against veteran homelessness.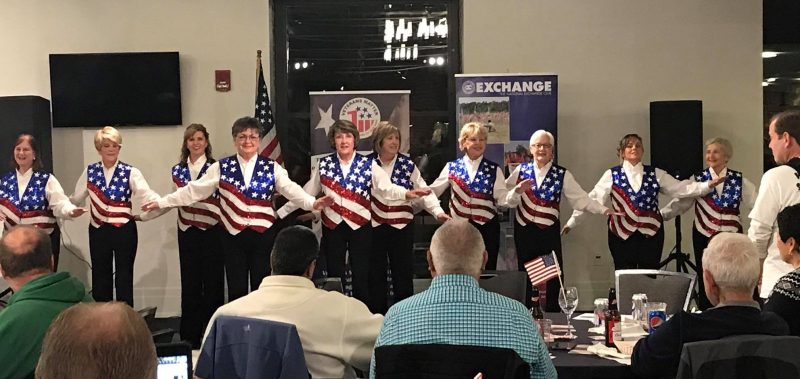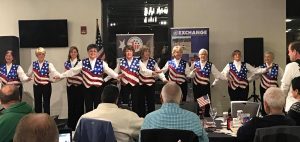 The monetary totals from the collaboration between the local exchange is still coming in and we will report on these figures as soon as possible. Click here to see more pictures from the event.
Tracey Edwards, CEO of The National Exchange Club, understands the mission of Veterans Matter and is thrilled to support our homeless heroes. He said, "The National Exchange Club recognizes the tragedy that so many service men and women are living on the very streets they fought to protect. With Veterans Matter, Exchange Clubs nationwide have found a common service project under which they can unite as civic leaders, as wel as rally the community to inspire chance. Over the years, we have come together, and grown together, to house our heroes."
In addition to Lincoln Park and the Toledo Area Exchange Clubs, the following Exchange Clubs also participated in the annual "11/11@7" fundraiser for Veterans Matter:
Findlay, Anderson Noon, Laporte County, Chesterton, Portage, Bloomington, Speedway, Fishers, In, Hancock County, Lincoln Park, Indiana District,Macon, Ga, Montgomery, N. Raleigh, Monroe, Murfreesboro, Swift Creek (click each name to find out more about these Exchange Clubs).
And lastly, thank you to the following car dealerships who partnered with the National Exchange Club of Findlay to support Veterans Matter through donating a percentage of their sales: Warner Automotive ($770), LaRiche Chevrolet-Cadillac ($1,030), LaRiche Subaru ($810) for a total of $2,610 enough to house at least 4 veterans and their families.
To donate to Veterans Matter and stand with us to end veteran homelessness, click here.
Fore more information about the following organizations, click the links below: