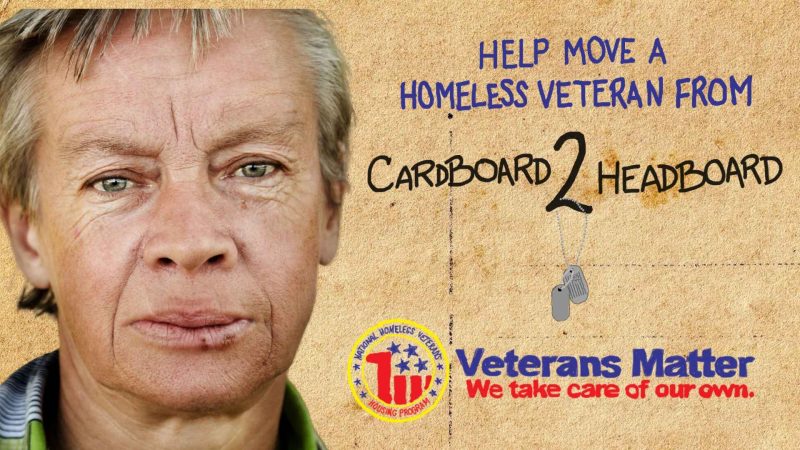 Create your own #Cardboard2Headboard sign and share it to your social media accounts and encourage your fans to support our homeless Veterans.
Record a liner for our national terrestrial/streaming radio campaign. 30 seconds of radio quality audio, copy below. Email your audio to kleslie@veteransmatter.org
Donate a unique item or "Meet & Greet" and we will setup a raffle to encourage our advocates and your fans to care for our homeless Veterans as much as you do.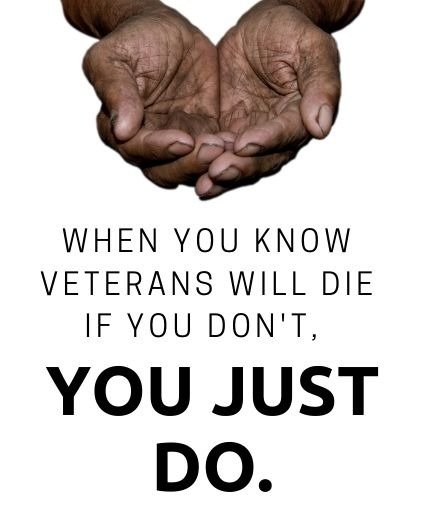 WHY OUR VETERANS NEED YOUR SUPPORT
COVID-19 has put our nation's homeless veterans at risk of life or death.  They need our help right now. We have housed 3,700 veterans in 25 states, and want to urgently house 1000 more.
With over 37,000 veterans still sleeping on cardboard, a growing number of stations and artists are urgently working with us to move them from cardboard to headboard in a warm, safe home of their own – because we should – because we can!
We need your help getting the word out. Below are more ways you can help.
Backstory
A chance visit by John Mellencamp to a Tent City event in Toledo, OH, in 2008, sparked the founding of 1Matters.org, a non-profit that creates and funds innovative programs to address homelessness.
Veterans Matter, a program of 1Matters.org, was initially launched in Toledo to house 35 local veterans in permanent housing. The program was expanded nationally at the urging and support of Dusty Hill of ZZ Top, John Mellencamp, and Mitch Albom, who wanted us to help house veterans in their home states of Texas, Indiana, and Michigan.
Since then, other Artist Advocates such as Luke Bryan, Lee Brice, Katy Perry, George Thorogood, Carrie Underwood and more, donated time to help raise money or awareness. We hope you will join us.
As an artist supporting our #Cardboard2Headboard Campaign, here's even more ways to help:
---
---
Social Media 
Remind your fans that forgotten veterans are living on the streets. Use our content or create your own to urge all Americans to care as much as you do. You can add, and then share our Facebook page here,
Campaign hashtag: #Cardboard2Headboard. Campaign website: Cardboard2Headboard.org
Add and share our Instagram: VeteransMatter  Twitter: @GetVetsHoused  Use our dynamic group of shareable images, or post your own.  This content can loop your fans and followers back to your website for more info.
Campaign hashtag: #Cardboard2Headboard. Campaign website: Cardboard2Headboard.org
---
Veterans Matter
Talking Points
---
Facts & Statistics
---
Note from Ken, Advocate-in-Chief
---
Add a pandemic that is killing the most vulnerable, you understand our sense of urgency and why we are working tirelessly to get every veteran we can, housed as fast as we can.
Having been homeless myself, I know even one more night might be one too many for the 37,085 homeless veterans living on the streets of our nation.
There are homeless veterans this very minute who have ready and waiting housing but cannot go in simply because they do not have the deposit. I created a way to solve this problem and immediately get the veteran housed, which to date, has helped over 3,700 veterans get housed in 25 states.
Now, the veterans need us more than ever. It is literally life and death.
Though we are housing twice the number of veterans as last year, the pandemic has drastically reduced corporate and major donors. We want to unite the entertainment and radio industries to raise one million dollars to house 1000 more veterans.
We want to use the #Carboard2Headboard campaign as a vehicle to unite us all. We hope you will join us right now; veterans are dying for us to help them. They are not alone, they have YOU!
It really is simple: When you know veterans will die if you don't, you just do. So we fight for them. We will never quit fighting for our Veterans, just as they never quit fighting for us.
Ken Leslie – Advocate-in-Chief
---