Harry Sandler has been the tour manager for artists including John Mellencamp and Katy Perry. For years, he's traveled the world and captured breathtaking images – of the places he's been and the people he's seen.
Harry also happens to be a Veterans Matter ally, advocate and board member. In October, he's bringing his photography to the Toledo School for the Arts' Porter Gallery to raise money to house more homeless veterans.
Harry's work will be for sale during the exhibit, which will run October 3-30. There will also be a fundraiser event October 19, which will include a silent auction featuring unbelievable items.
One of those items: A gorgeous Jackson electric guitar signed by Def Leppard lead guitarist Phil Collen.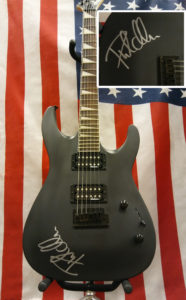 Def Leppard has sold over 100 million albums to date, and are one of only six bands to have achieved two diamond albums in America. Collen joined the band in 1982 during the recording of Pyromania, Def Leppard's breakthrough album.
Collen has been influenced by guitar players such as Ritchie Blackmore, Jimi Hendrix and Mick Ronson. He and the late Steve Clark, Collen's best friend and band mate, had been dubbed "The Terror Twins." Their harmonious guitar playing became known as the "Def Leppard sound."
In addition to Def Leppard, Collen writes and performs music with two other bands: the punk funk rock band MANRAZE, and blues rock soul band DELTA DEEP.
Collen's autographed guitar would make an extremely cool addition to a rock-lover's collection!
Def Leppard is currently on tour in North America and will be stopping in Toledo Oct. 8.