Help Your Celebrity Advocate Get the Word Out
More than 20 actors, musicians, authors and singers have stepped forward as advocates. Like us, they want to end veteran homelessness.You can help by clicking on their images below to share on your social media pages. Check out and share their PSA videos. Then click to
their page and thank them for helping to house our heroes.Don't forget to tag the artist in your post so they can see it!
Anne Heche
Try these sample tweets:
Proud to join @AnneHeche and the mission to @GetVetsHoused. I texted VETS to 41444 and donated to house a #veteran family.
I love that @AnneHeche cares about #veterans. Have you seen her support of @GetVetsHoused to help #homeless veterans?
Heard through @AnneHeche about @GetVetsHoused. You can help get #veterans off the streets by texting VETS to 41444.
Watch this @AnneHeche video about @GetVetsHoused. I had no idea there are over 39,000 #homeless #veterans!  http://bit.ly/2qlz2Xm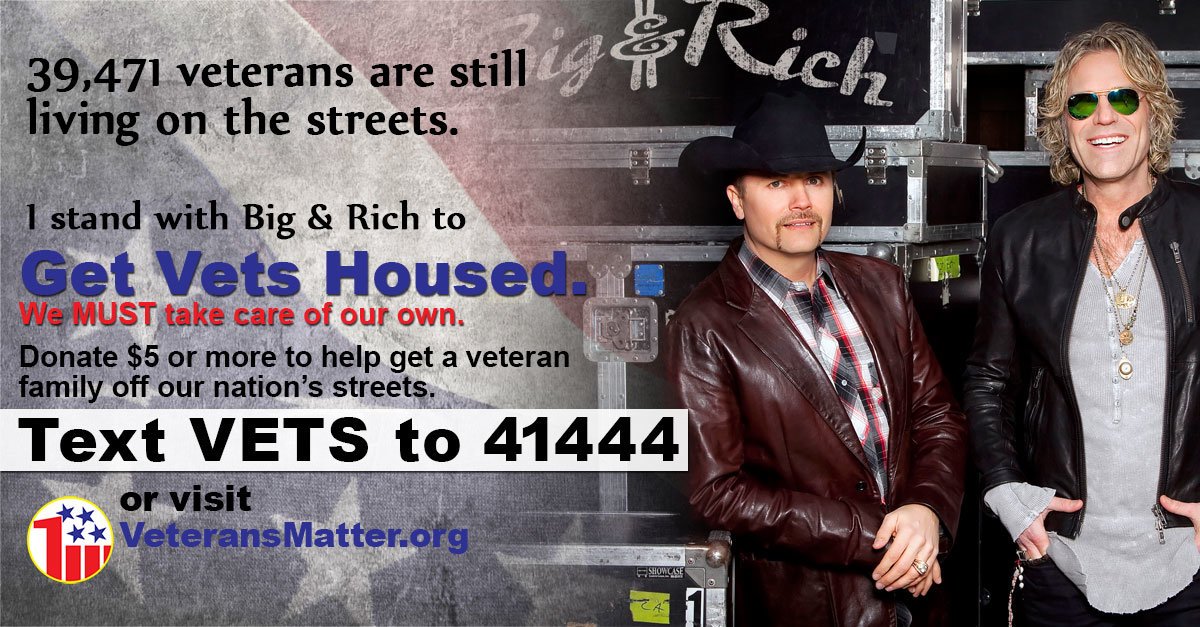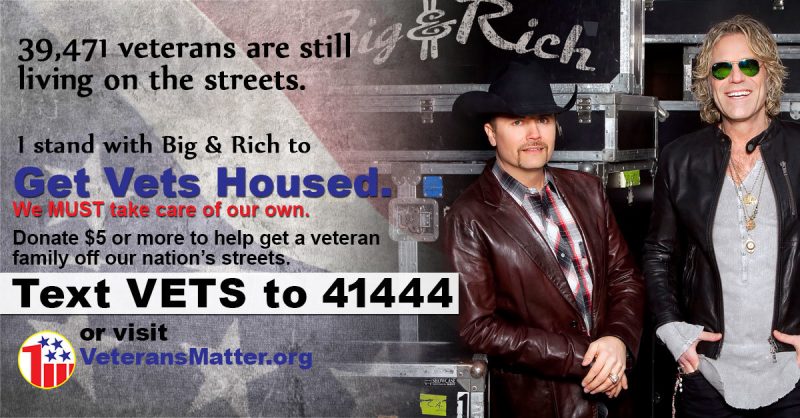 Big & Rich
Try these sample tweets:
Proud to join @BigAndRich and the mission to @GetVetsHoused. I texted VETS to 41444 and donated to house a #veteran family.
I love the music and the heart of @BigAndRich. Have you seen their support of @GetVetsHoused to help #homeless #veterans?
Heard through @BigAndRich about @GetVetsHoused. You can help get #veterans off the streets by texting VETS to 41444.
Watch this @BigAndRich video about @GetVetsHoused. I had no idea there are over 39,000 #homeless #veterans!  http://bit.ly/2ERWohh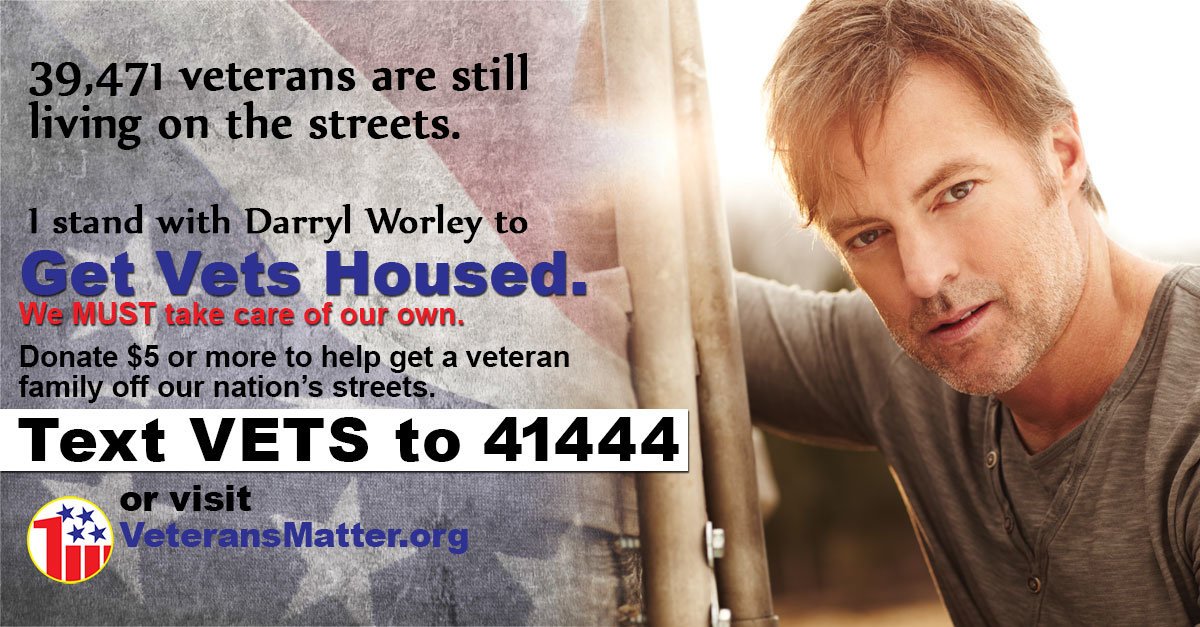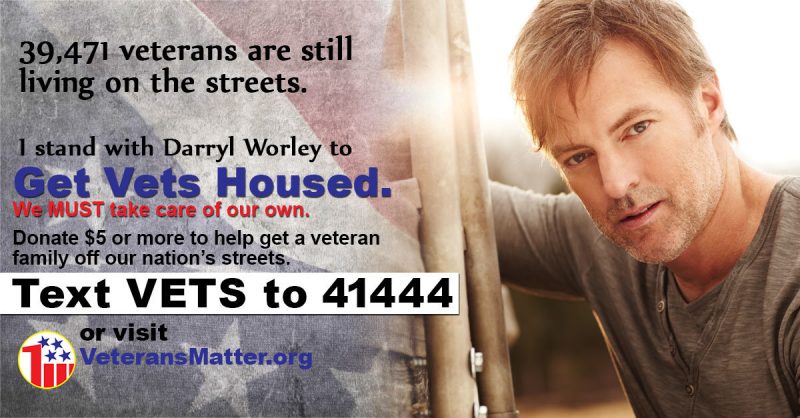 Darryl Worley
Try these sample tweets:
Proud to join @DarrylWorley and the mission to @GetVetsHoused. I texted VETS to 41444 and donated to house a #veteran family.
I love the music and the heart of @DarrylWorley. Have you seen his support of @GetVetsHoused to help #homeless #veterans?
Heard through @DarrylWorley about @GetVetsHoused. You can help get #veterans off the streets by texting VETS to 41444.
Watch this @DarrylWorley video about @GetVetsHoused. I had no idea there are over 39,000 #homeless #veterans!  http://bit.ly/2Dhdm78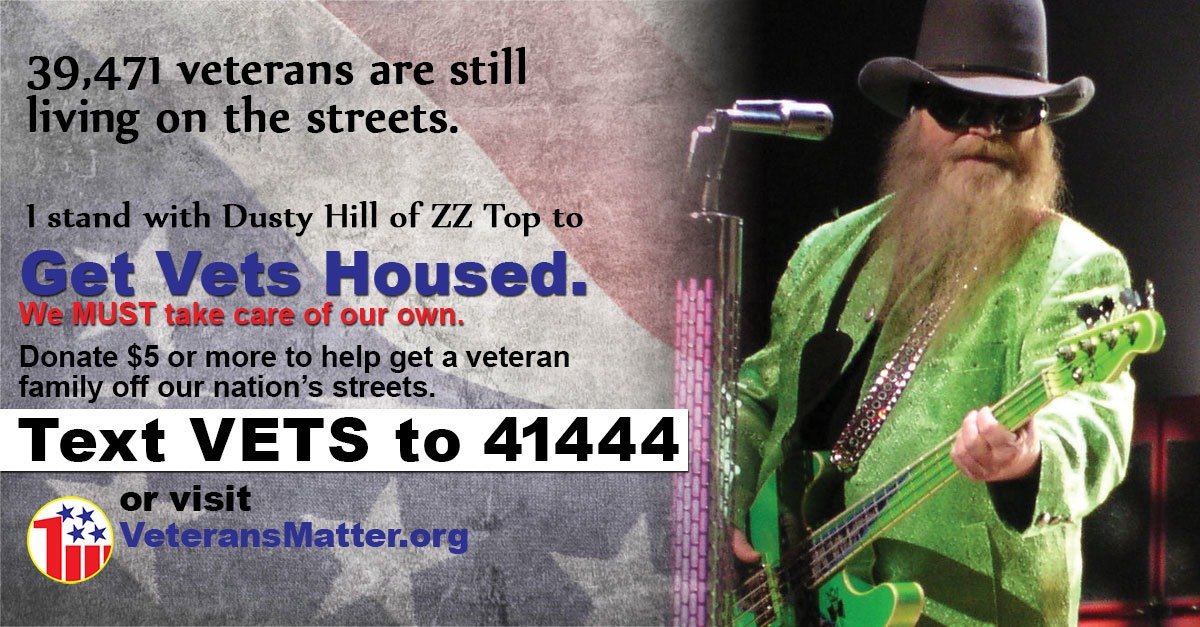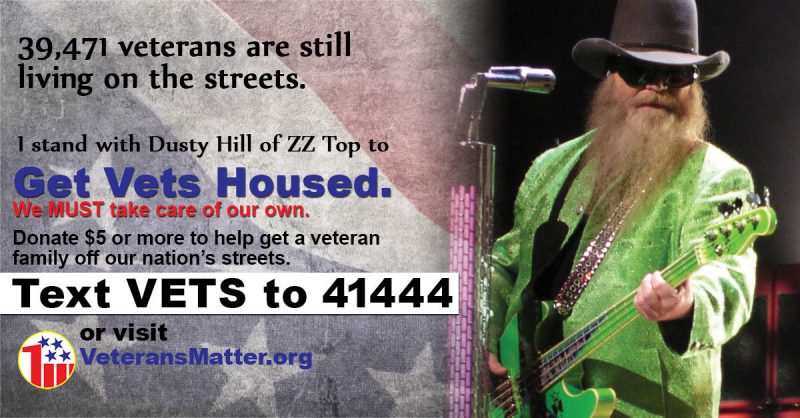 Dusty Hill
Try these sample tweets:
Proud to join Dusty Hill of @ZZTop and the mission to @GetVetsHoused. I texted VETS to 41444 and donated to house a #veteran family.
I love the music of @ZZTop and the heart of Dusty Hill. Have you seen his support of @GetVetsHoused to help #homeless #veterans?
Heard through Dusty Hill of @ZZTop about @GetVetsHoused. You can help get #veterans off the streets by texting VETS to 41444.
Watch this Dusty Hill of @ZZTop video about @GetVetsHoused. I had no idea there are over 39,000 #homeless #veterans! http://bit.ly/2PvgfXE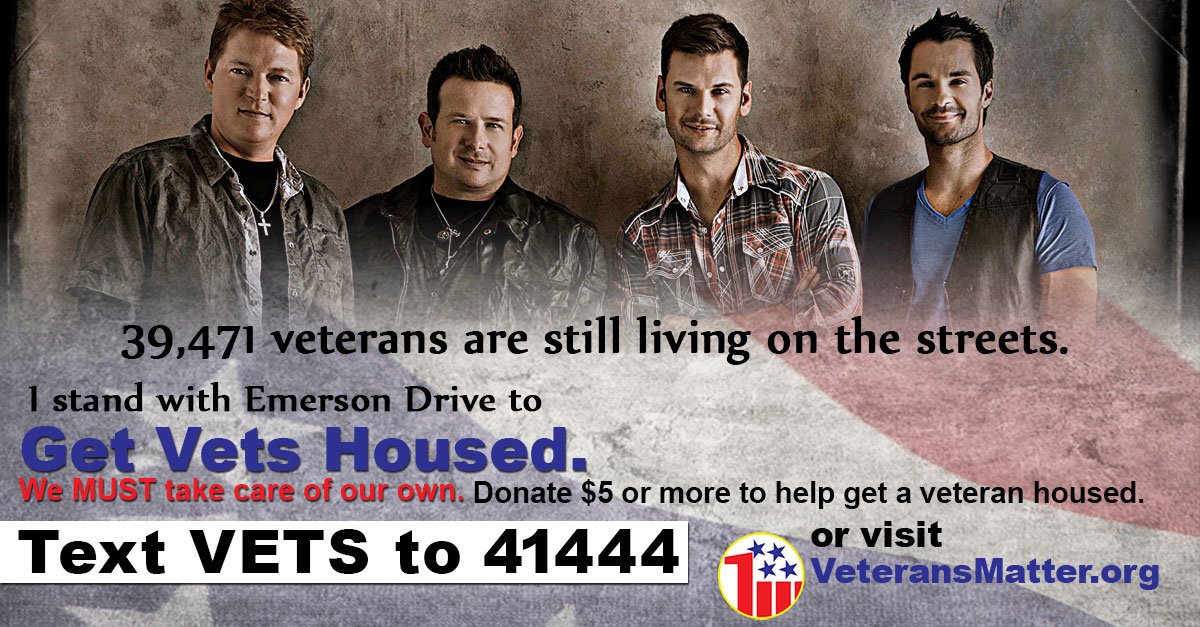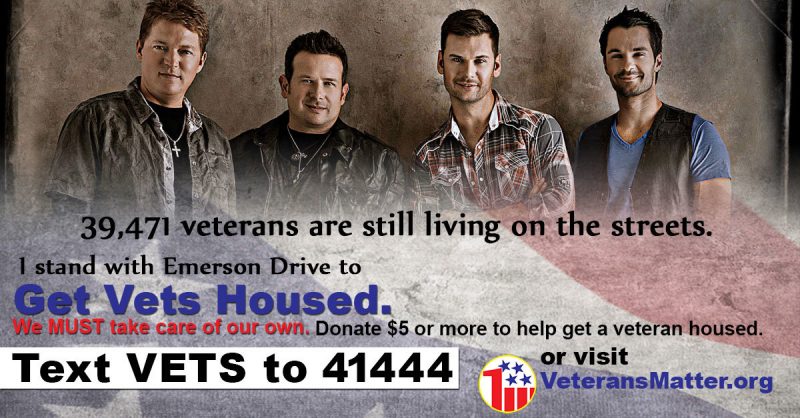 Emerson Drive
Try these sample tweets:
Proud to join @EmersonDrive and the mission to @GetVetsHoused. I texted VETS to 41444 and donated to house a #veteran family.
I love the music and the heart of @EmersonDrive. Have you seen their support of @GetVetsHoused to help #homeless #veterans?
Heard through @EmersonDrive about @GetVetsHoused. You can help get #veterans off the streets by texting VETS to 41444.
Watch this @EmersonDrive video about @GetVetsHoused. I had no idea there are over 39,000 #homeless #veterans! http://bit.ly/2Oetzej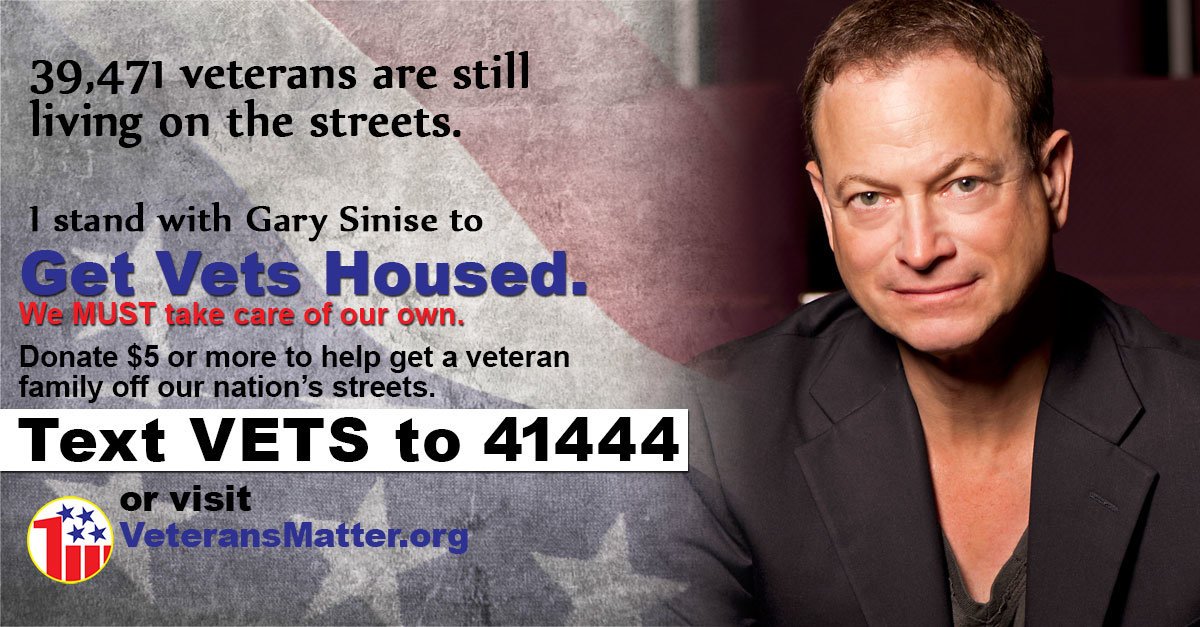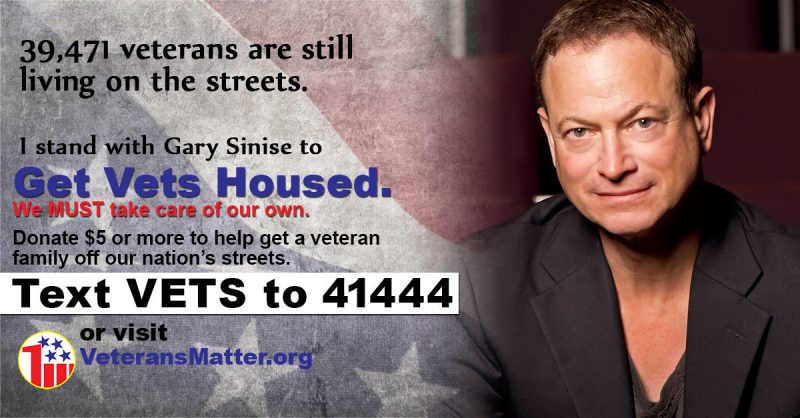 Gary Sinise
Try these sample tweets:
Proud to join @GarySinise and the mission to @GetVetsHoused. I texted VETS to 41444 and donated to house a #veteran family.
I love @GarySinise's heart for veterans. Have you seen his support of @GetVetsHoused to help #homeless #veterans?
Heard through @GarySinise about @GetVetsHoused. You can help get #veterans off the streets by texting VETS to 41444.
Watch this @GarySinise video about @GetVetsHoused. I had no idea there are over 39,000 #homeless #veterans!  http://bit.ly/2StZTNE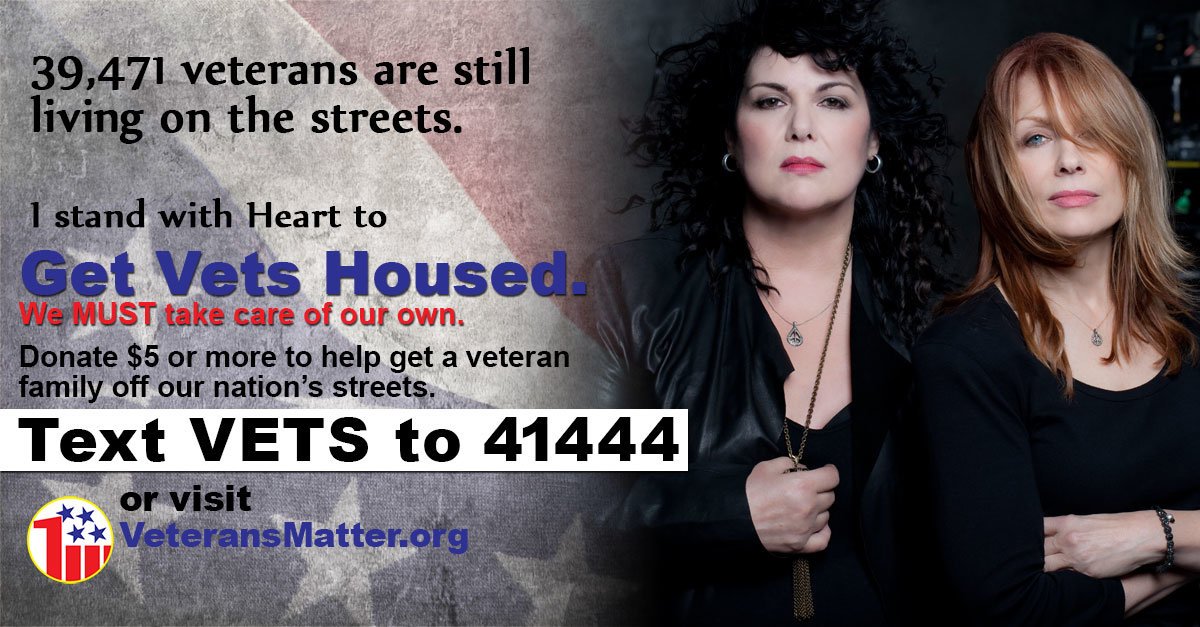 Heart
Try these sample tweets:
Proud to join @OfficialHeart and the mission to @GetVetsHoused. I texted VETS to 41444 and donated to house a #veteran family.
I love the music and the heart of @OfficialHeart. Have you seen their support of @GetVetsHoused to help #homeless #veterans?
Heard through @OfficialHeart about @GetVetsHoused. You can help get #veterans off the streets by texting VETS to 41444.
Watch this @OfficialHeart video about @GetVetsHoused. I had no idea there are over 39,000 #homeless #veterans!  http://bit.ly/2Q8DUue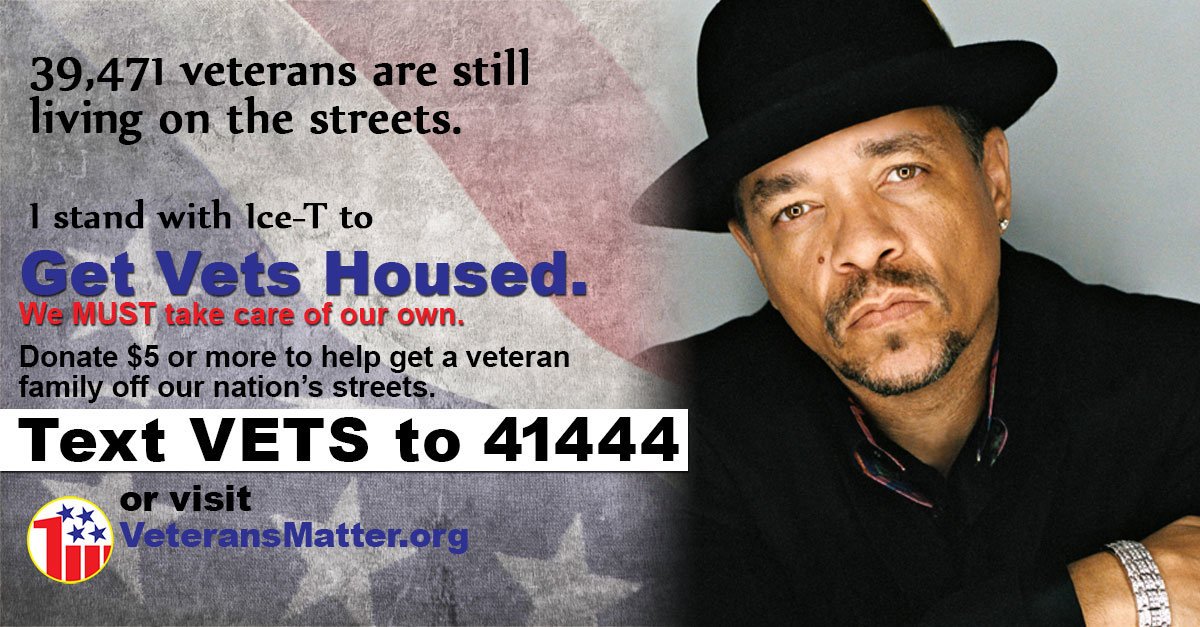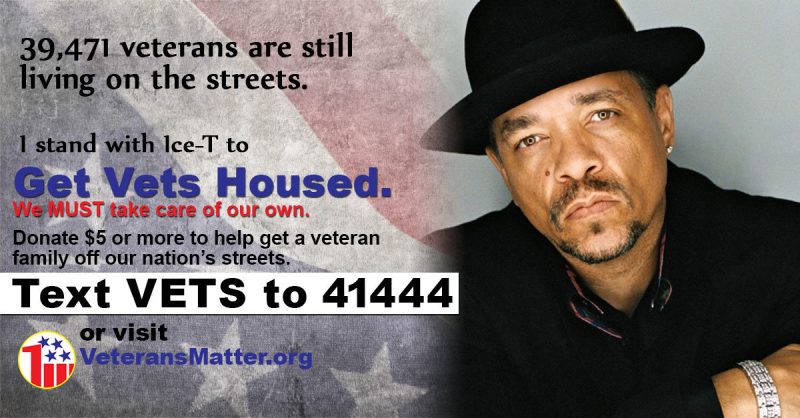 Ice-T
Try these sample tweets:
Proud to join Ice-T of @FINALLEVEL and the mission to @GetVetsHoused. I texted VETS to 41444 and donated to house a #veteran family.
I love the work & the heart of Ice-T of @FINALLEVEL. Have you seen his support of @GetVetsHoused to help #homeless #veterans?
Heard through Ice-T of @FINALLEVEL about @GetVetsHoused. You can donate to get #veterans off the streets by texting VETS to 41444.
Watch this Ice-T of @FINALLEVEL video about @GetVetsHoused. I had no idea there are over 39,000 #homeless #veterans! http://bit.ly/2RvdYcz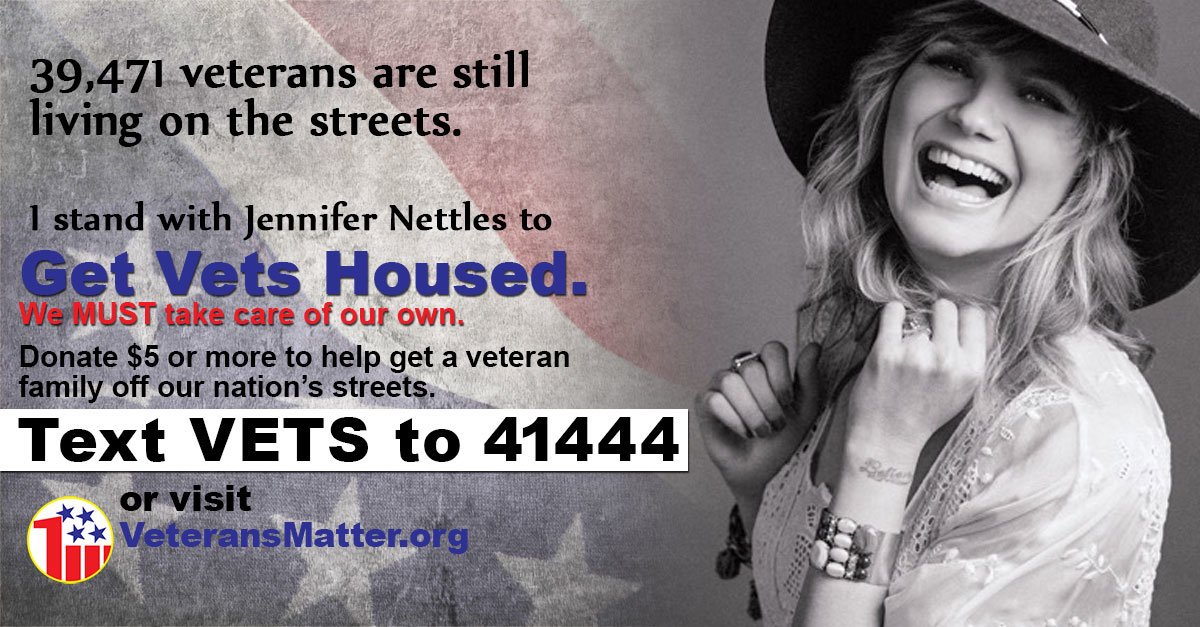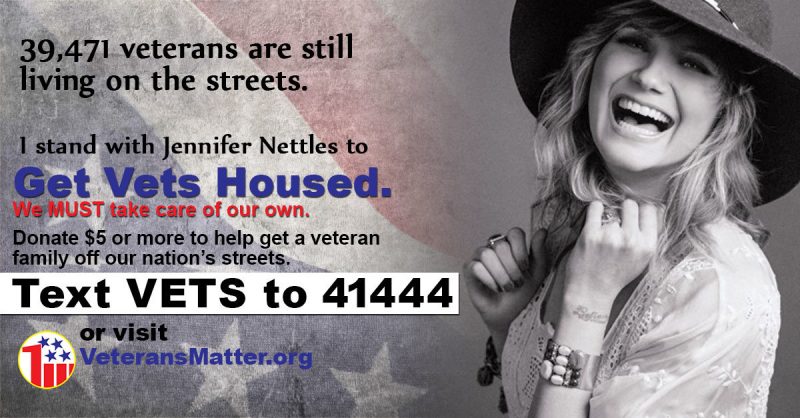 Jennifer Nettles
Try these sample tweets:
Proud to join @JenniferNettles and the mission to @GetVetsHoused. I texted VETS to 41444 and donated to house a #veteran family.
I love the music and the heart of @JenniferNettles. Have you seen her support of @GetVetsHoused to help #homeless #veterans?
Heard through @JenniferNettles about @GetVetsHoused. You can help get #veterans off the streets by texting VETS to 41444.
Watch this @JenniferNettles video about @GetVetsHoused. I had no idea there are over 39,000 #homeless #veterans! http://bit.ly/2RoEmob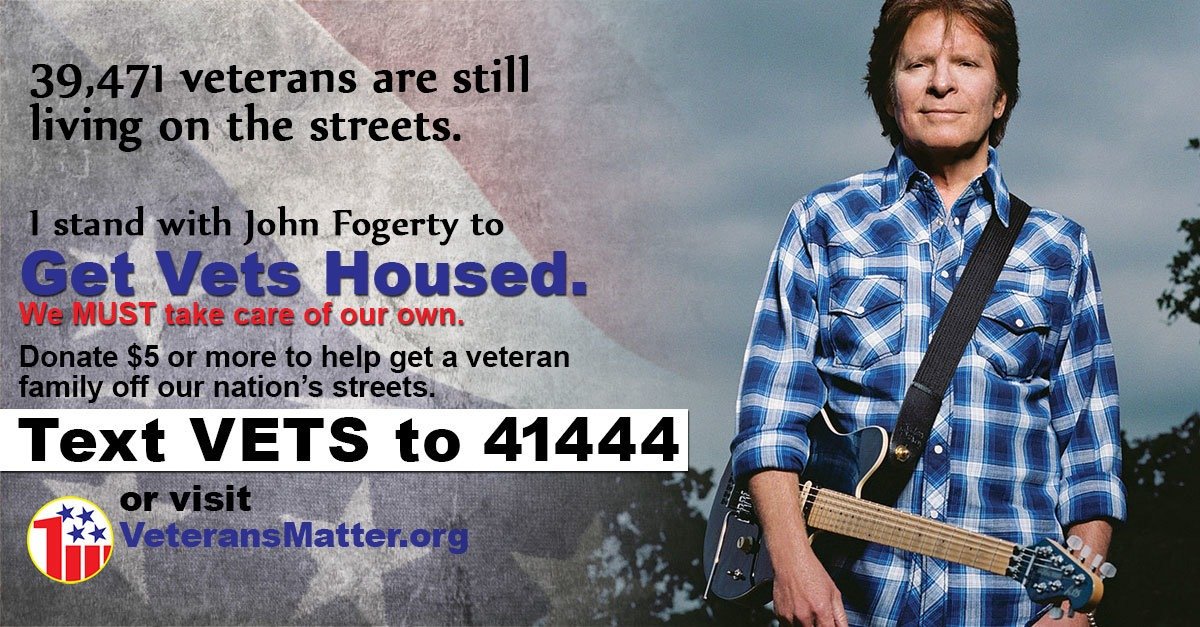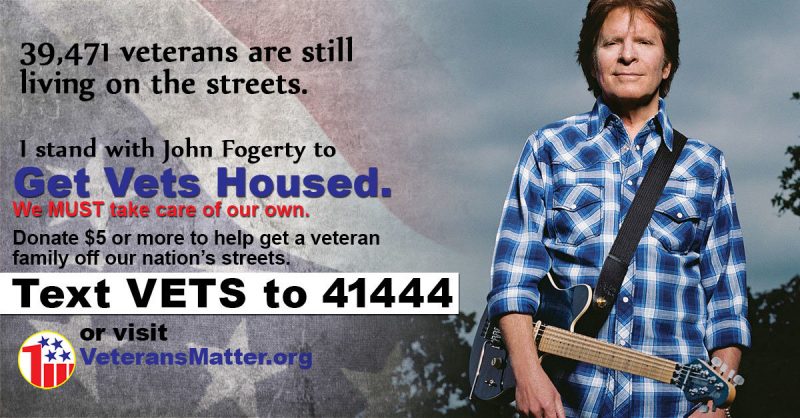 John Fogerty
Try these sample tweets:
Proud to join @John_Fogerty and the mission to @GetVetsHoused. I texted VETS to 41444 and donated to house a #veteran family.
I love the music and the heart of @John_Fogerty. Have you seen his support of @GetVetsHoused to help #homeless #veterans?
Heard through @John_Fogerty about @GetVetsHoused. You can help get #veterans off the streets by texting VETS to 41444.
Watch this @John_Fogerty video about @GetVetsHoused. I had no idea there are over 39,000 #homeless #veterans!  http://bit.ly/2Dd9KTv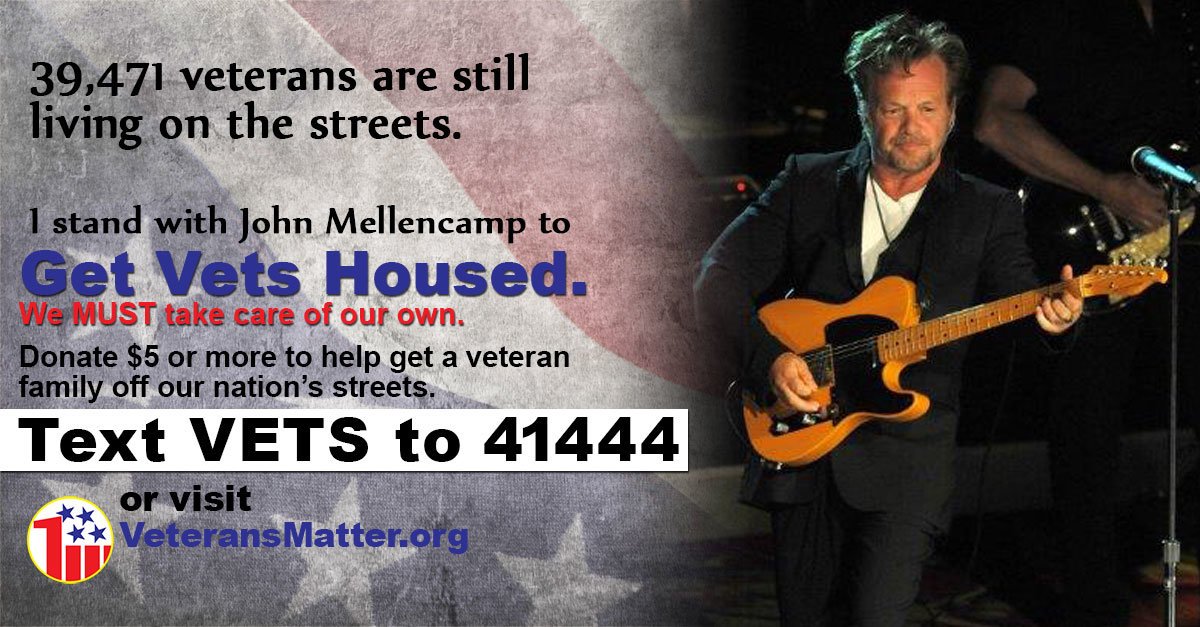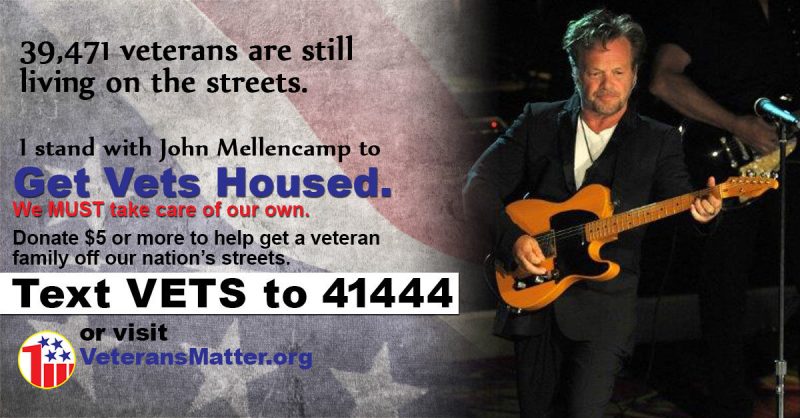 John Mellencamp
Try these sample tweets:
Proud to join @JohnMellencamp and the mission to @GetVetsHoused. I texted VETS to 41444 and donated to house a #veteran family.
I love the music and the heart of @JohnMellencamp. Have you seen his support of @GetVetsHoused to help #homeless #veterans?
Heard through @JohnMellencamp about @GetVetsHoused. You can help get #veterans off the streets by texting VETS to 41444.
Watch this @JohnMellencamp video about @GetVetsHoused. I had no idea there are over 39,000 #homeless #veterans! http://bit.ly/SiWsd1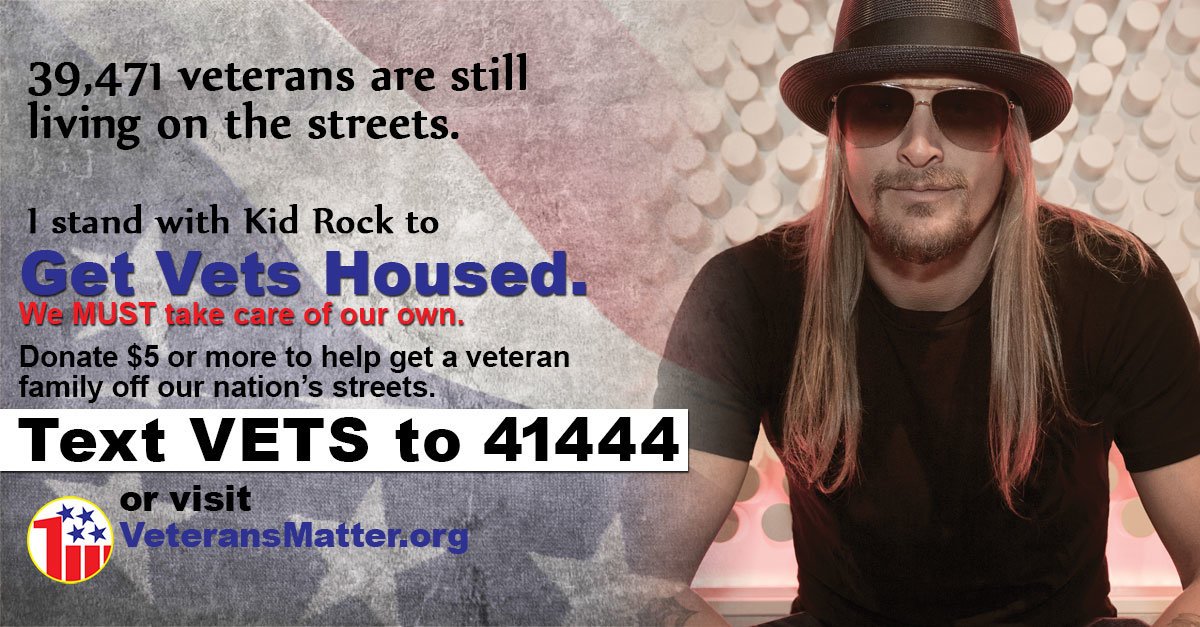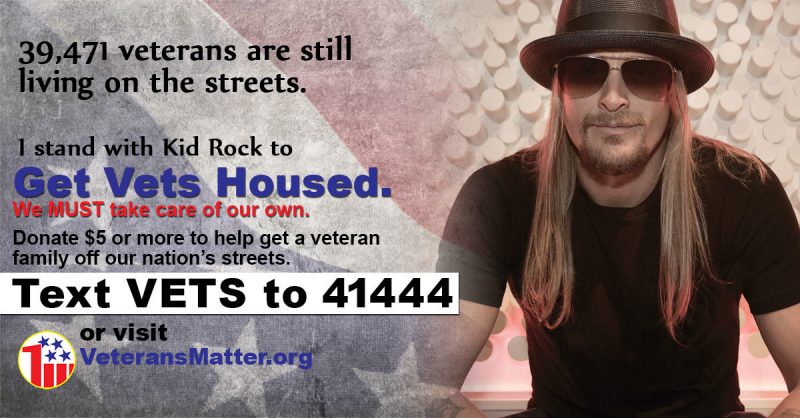 Kid Rock
Try these sample tweets:
Proud to join @KidRock and the mission to @GetVetsHoused. I texted VETS to 41444 and donated to house a #veteran family.
I love the music and the heart of @KidRock. Have you seen his support of @GetVetsHoused to help #homeless #veterans?
Heard through @KidRock about @GetVetsHoused. You can help get #veterans off the streets by texting VETS to 41444.
Watch this @KidRock video about @GetVetsHoused. I had no idea there are over 39,000 #homeless #veterans!  http://bit.ly/2RkjcYq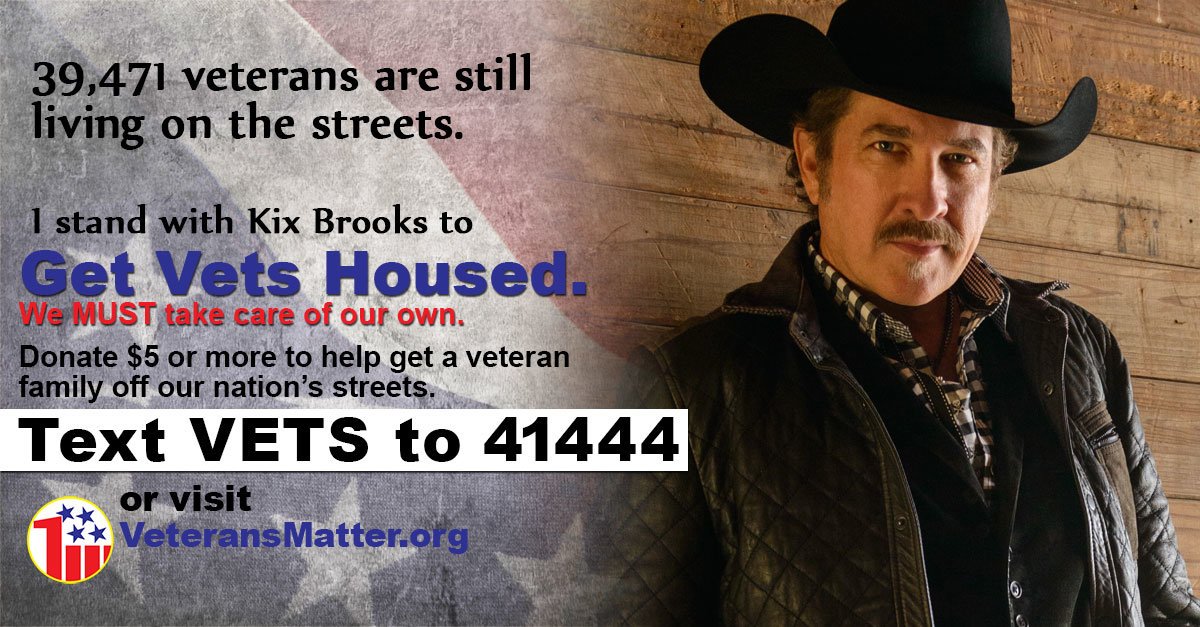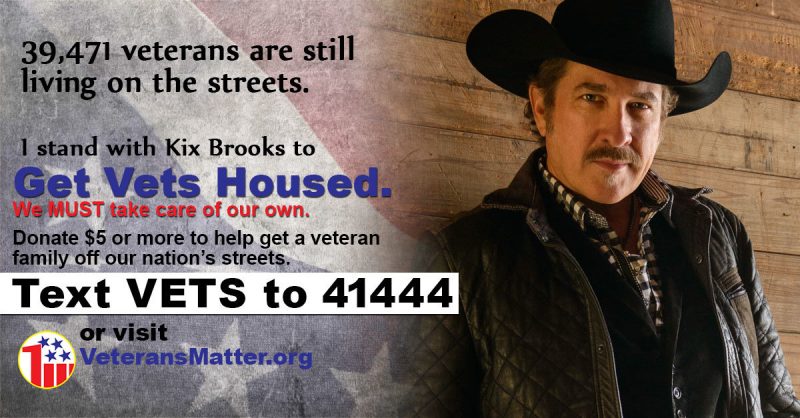 Kix Brooks
Try these sample tweets:
Proud to join @KixBrooks and the mission to @GetVetsHoused. I texted VETS to 41444 and donated to house a #veteran family.
I love the music and the heart of @KixBrooks. Have you seen his support of @GetVetsHoused to help #homeless #veterans?
Heard through @KixBrooks about @GetVetsHoused. You can help get #veterans off the streets by texting VETS to 41444.
Watch this @KixBrooks video about @GetVetsHoused. I had no idea there are over 39,000 #homeless #veterans!  http://bit.ly/2yJJKvd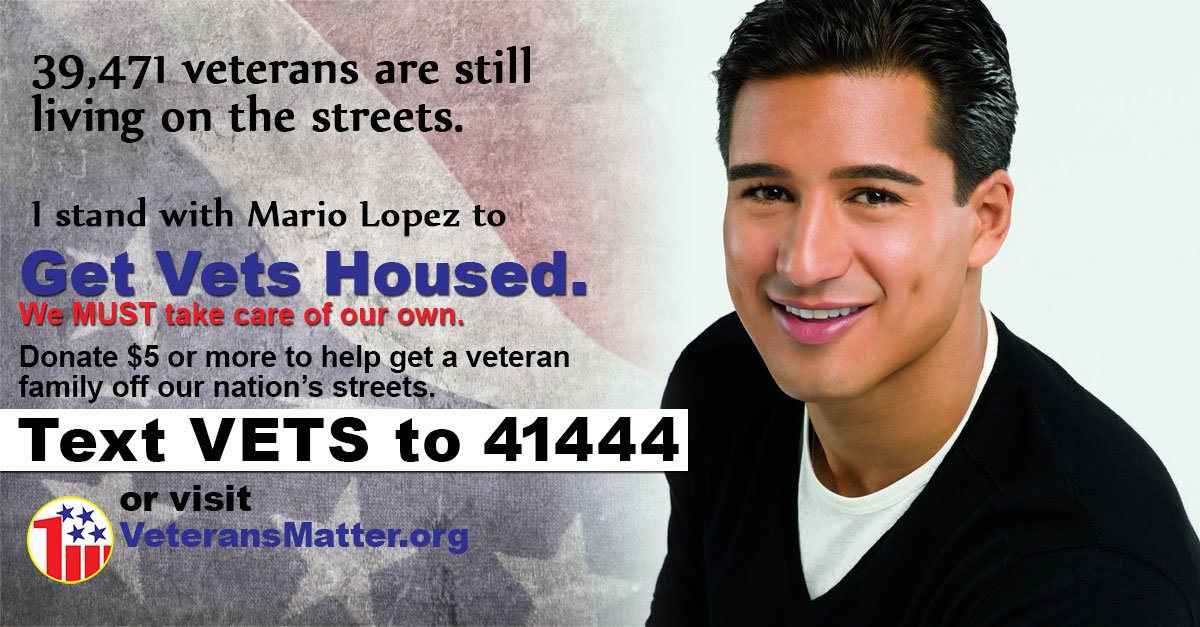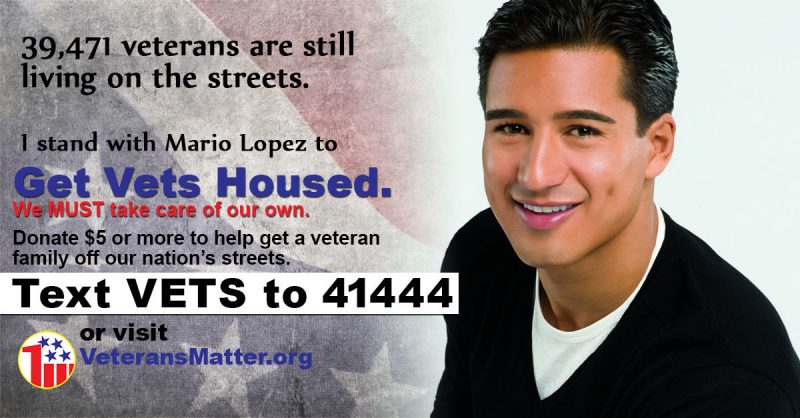 Mario Lopez
Try these sample tweets:
Proud to join @MarioLopezExtra and the mission to @GetVetsHoused. I texted VETS to 41444 and donated to house a #veteran family.
I love how much @MarioLopezExtra cares about vets. Have you seen his support of @GetVetsHoused to help #homeless #veterans?
Heard through @MarioLopezExtra about @GetVetsHoused. You can help get #veterans off the streets by texting VETS to 41444.
Watch this @MarioLopezExtra video about @GetVetsHoused. I had no idea there are over 39,000 #homeless #veterans!  http://bit.ly/2zk2LUq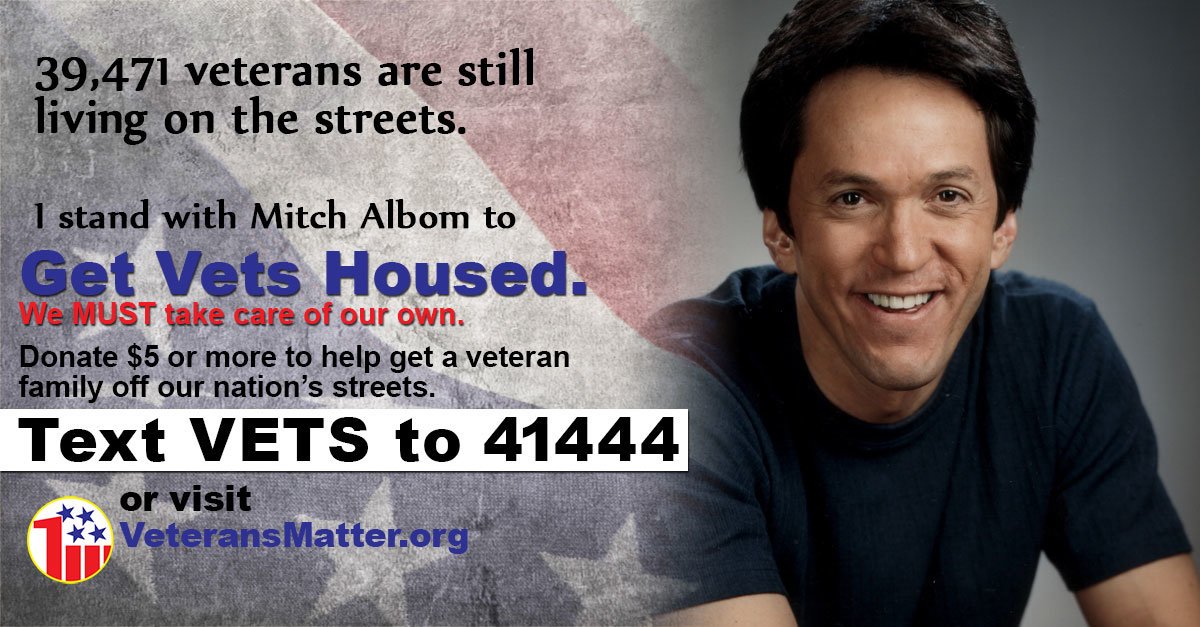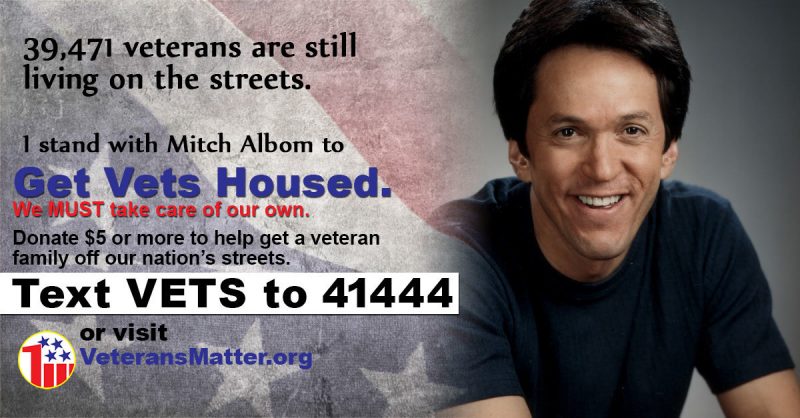 Mitch Albom
Try these sample tweets:
Proud to join @MitchAlbom and the mission to @GetVetsHoused. I texted VETS to 41444 and donated to house a #veteran family.
I love how much @MitchAlbom gives back. Have you seen his support of @GetVetsHoused to help #homeless #veterans?
Heard through @MitchAlbom about @GetVetsHoused. You can help get #veterans off the streets by texting VETS to 41444.
Watch this @MitchAlbom video about @GetVetsHoused. I had no idea there are over 39,000 #homeless #veterans!  http://bit.ly/2yHwGXo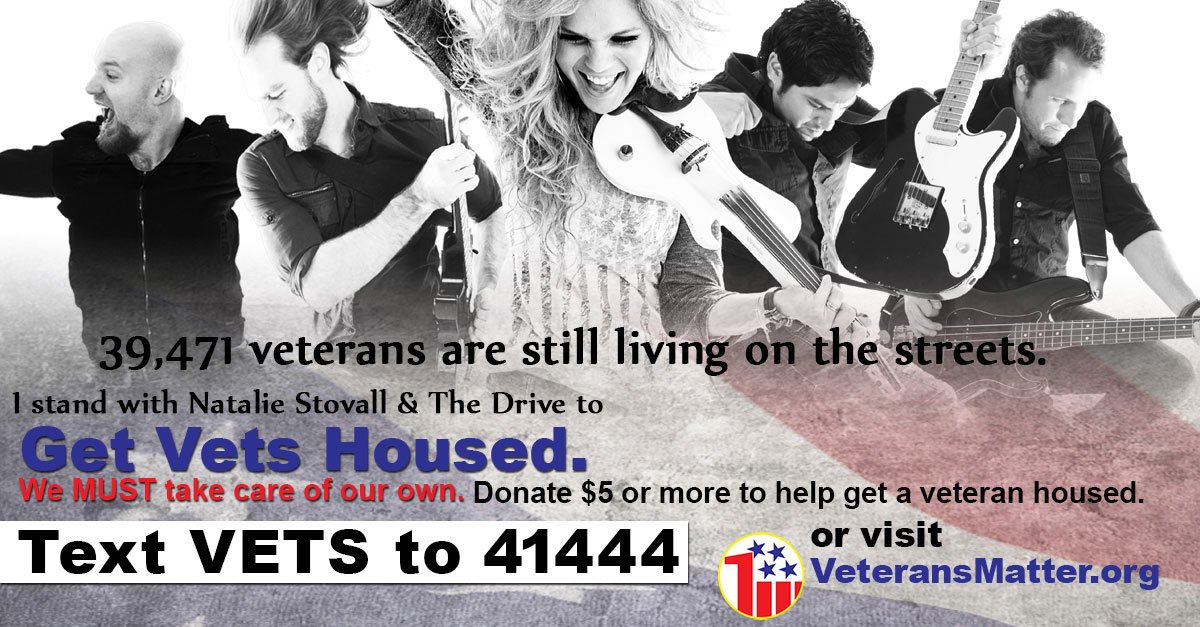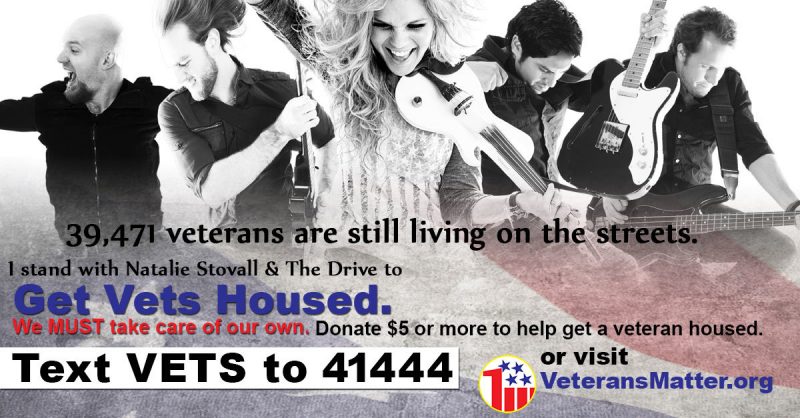 Natalie Stovall + The Drive
Try these sample tweets:
Proud to join @NatalieStovall + The Drive and the mission to @GetVetsHoused. I texted VETS to 41444 and donated to house a #veteran family.
I love the music and heart of @NatalieStovall + The Drive. Have you seen their support of @GetVetsHoused to help #homeless #veterans?
Heard through @NatalieStovall + The Drive about @GetVetsHoused. You can help get #veterans off the streets by texting VETS to 41444.
Watch this @NatalieStovall video about @GetVetsHoused. I had no idea there are over 39,000 #homeless #veterans! http://bit.ly/1pYH4kK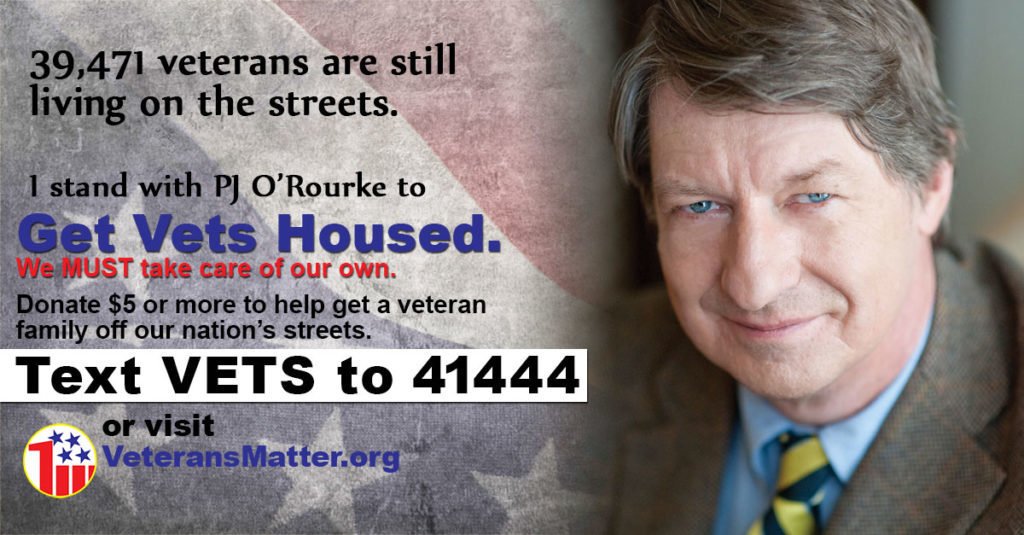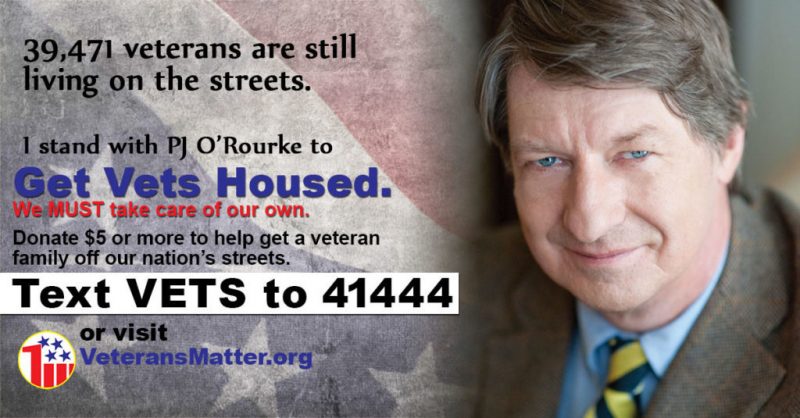 PJ O'Rourke
Try these sample tweets:
Proud to join @PJORourke and the mission to @GetVetsHoused. I texted VETS to 41444 and donated to house a #veteran family.
I love how much @PJORourke gives back. Have you seen his support of @GetVetsHoused to help #homeless #veterans?
Heard through @PJORourke about @GetVetsHoused. You can help get #veterans off the streets by texting VETS to 41444.
Watch this @PJORourke video about @GetVetsHoused. I had no idea there are over 39,000 #homeless #veterans!  http://bit.ly/2zfvOsq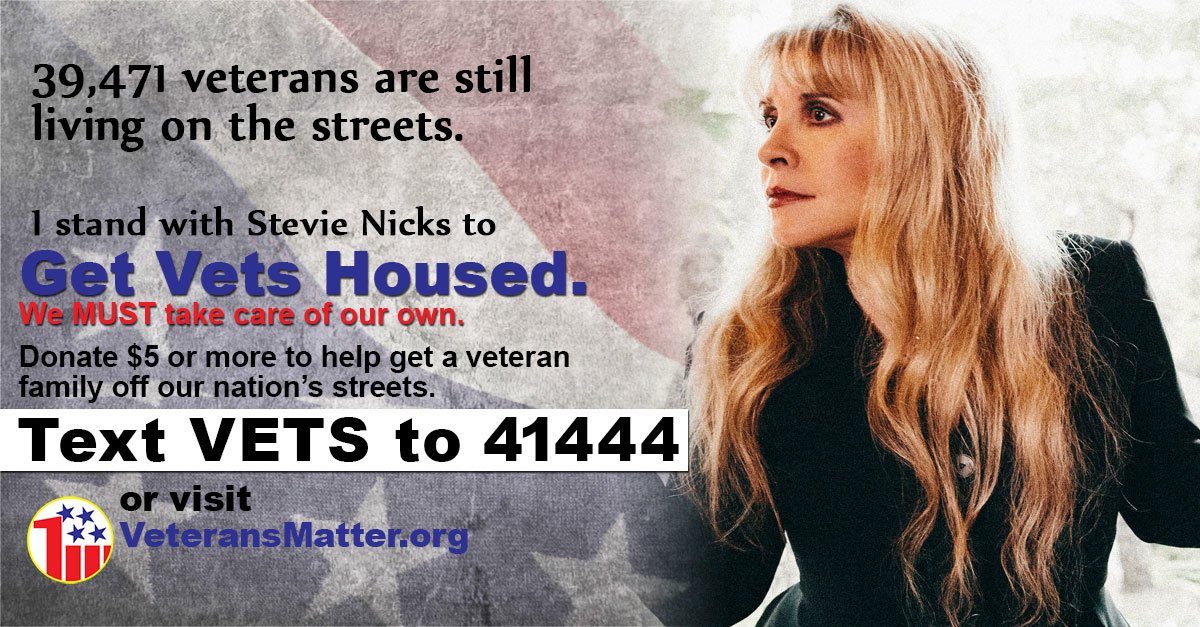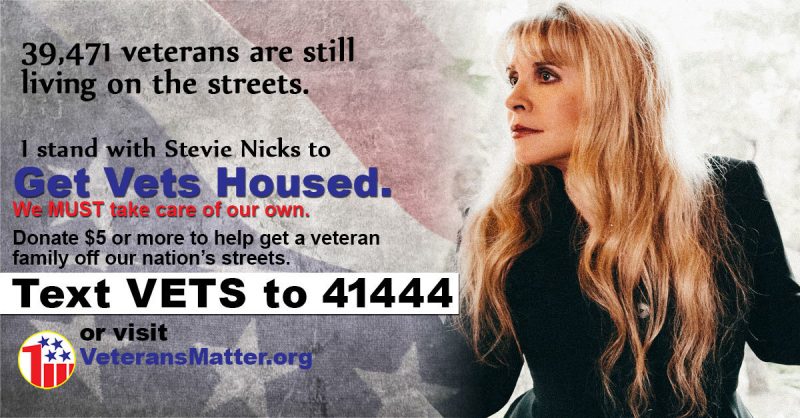 Stevie Nicks
Try these sample tweets:
Proud to join @StevieNicks and the mission to @GetVetsHoused. I texted VETS to 41444 and donated to house a #veteran family.
I love the music and the heart of @StevieNicks. Have you seen her support of @GetVetsHoused to help #homeless #veterans?
Heard through @StevieNicks about @GetVetsHoused. You can help get #veterans off the streets by texting VETS to 41444.
Watch this @StevieNicks video about @GetVetsHoused. I had no idea there are over 39,000 #homeless #veterans!  http://bit.ly/2P1vGr0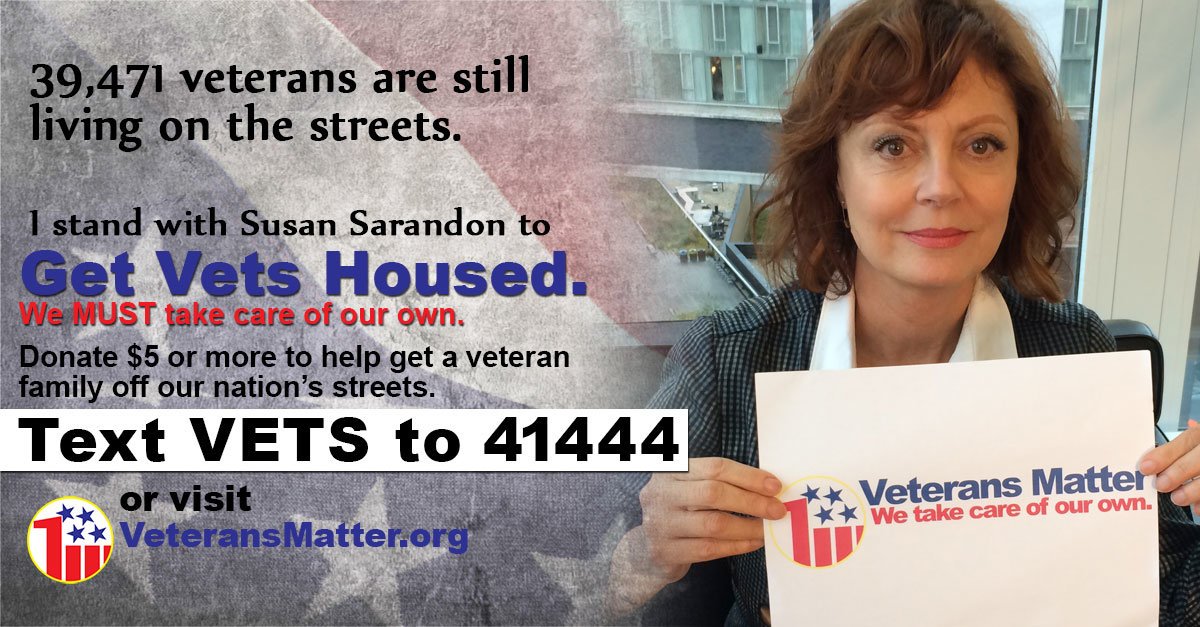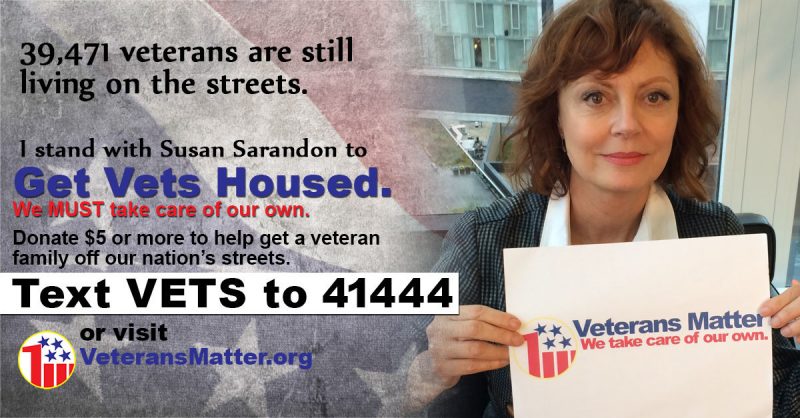 Susan Sarandon
Try these sample tweets:
Proud to join @SusanSarandon and the mission to @GetVetsHoused. I texted VETS to 41444 and donated to house a #veteran family.
I love the heart of @SusanSarandon. Have you seen her support of @GetVetsHoused to help #homeless #veterans?
Heard through @SusanSarandon about @GetVetsHoused. You can help get #veterans off the streets by texting VETS to 41444.
Watch this @SusanSarandon video about @GetVetsHoused. I had no idea there are over 39,000 #homeless #veterans!  http://bit.ly/2ACddsy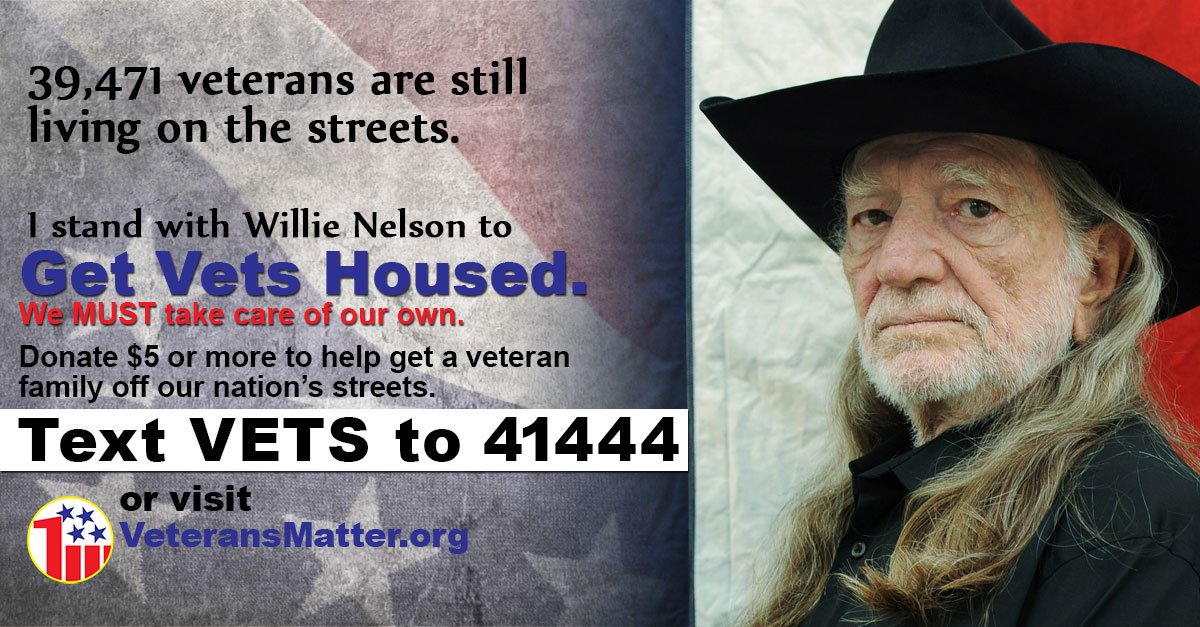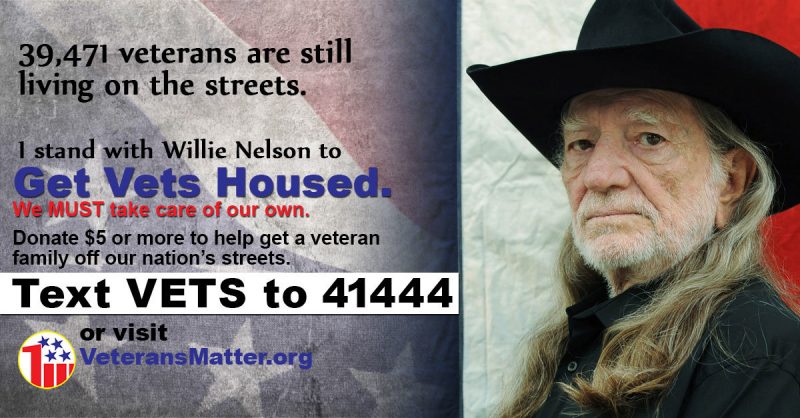 Willie Nelson
Try these sample tweets:
Proud to join @WillieNelson and the mission to @GetVetsHoused. I texted VETS to 41444 and donated to house a #veteran family.
I love the music and the heart of @WillieNelson. Have you seen his support of @GetVetsHoused to help #homeless #veterans?
Heard through @WillieNelson about @GetVetsHoused. You can help get #veterans off the streets by texting VETS to 41444.
Watch this @WillieNelson video about @GetVetsHoused. I had no idea there are over 39,000 #homeless #veterans!  http://bit.ly/2CRiIVy