Dance Party Countdown
The Denny Schaffer Winter Dance Party for Veterans Matter
SPONSORSHIP OPPORTUNITIES AVAILABLE
This will be a sure-to-sell-out event! There is no better way to make sure every veteran, and the entire community know how much you care about the veterans still on the streets! Sponsorship opportunities include one Title Sponsor, one Presenting Sponsor, and ten VIP Stage Sponsors. For pricing information and a proforma, email us at dance@veteransmatter.org.
Welcome to the HOTTEST party of the winter!
The 2020 Denny Schaffer Winter Dance Party to benefit Veterans Matter takes place on January 31st at the Seagate Center. from 8:00 p.m. to Midnight. Featuring 80's and early 90's music, you can plan on wearing your outfit from either decade.  
First, thank you for helping us House more Heroes! We started as a small hometown effort to just house 35 local veterans. At the urging of, and with funds raised by  Dusty Hill of ZZ Top, John Mellencamp and Mitch Albom, it has grown. We have now housed over 3,200 vets nationwide.

371 vets have been housed just from Denny's Disco Parties. So if you have attended one, you are a Hero to these Heroes. And if you bought a Heroes Table, 40 of those vets have been housed just by you! If you are new and will attend for the first time, we thank you.
Gold Tables

Best Available – Gold Table – $35* p/p – Sold as a table of ten.
Includes a bottle of complimentary champagne at each table and early entry at 7 p.m.
Upgrade your Gold Table to a Heroes Table for $150 and be recognized for helping house more veterans! See "Be a Hero" ——>.
*plus a $2 transaction fee per ticket which helps us cover the printing, mailing, processing and credit card costs so more veterans can get housed.
Silver Tables

Best Available – Silver Table – $30* p/p – Sold as a table of ten.
Silver Tables have early entry at 7:30.
Upgrade your Silver Table to a Heroes Table for $150 and be recognized for helping house more veterans! See Be a Hero ——>
General Admission Tickets

General Admission Through Ticketmaster: $25* – Sold individually.
General Admission tickets allow entry at 8:00 pm and do not include a table. No worries on timing, Denny hits the stage at 8:15.
*plus Ticketmaster charges
BE A HERO
Just like the Summer Disco Party, you can upgrade any table to a Heroes Table and help more veterans get housed. People will recognize you as a hero to the heroes because each Heroe's Table includes a patriotic theme of  patriotic red, white, and blue tablecloth, table tops and favors.
Again like the Summer Party, some caring veterans want to give you a complimentary bottle of champagne to thank you for helping their brothers and sisters by getting them off the streets and into homes of their own; they even want to come by your table to personally thank you!  For Gold Heroes Tables, this will be a second bottle of champagne to enjoy.
Last year we moved over 750 veterans from the streets and shelters into homes of their own. Every one of these are veterans who had nowhere else to go for the lease up costs. YOU were there for them.

Please consider being a hero to the heroes living on the streets of our nation and help give them a home for the brave, in the land of the free. They are counting on us!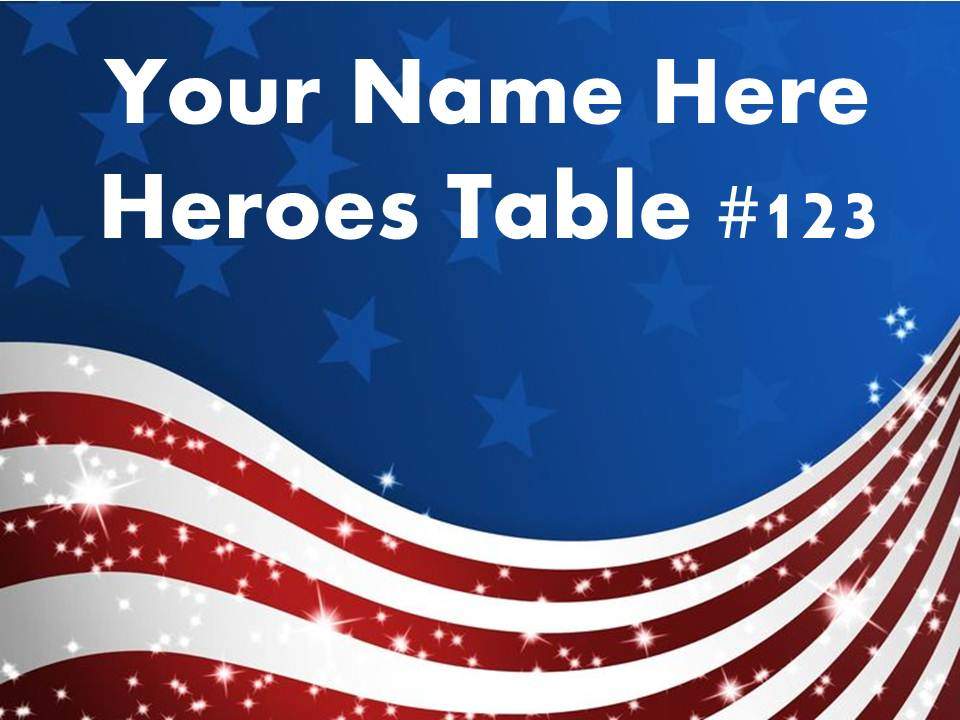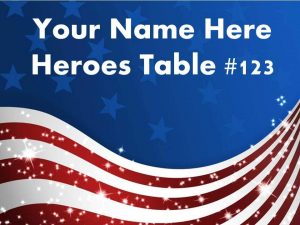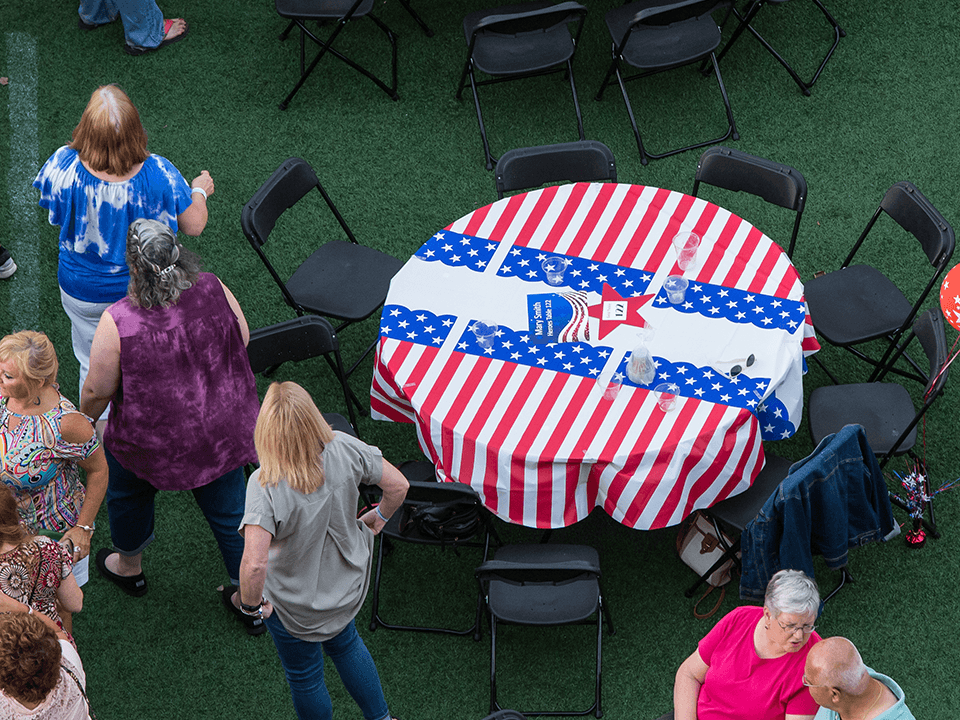 Thank you to the following individuals, groups, and businesses that have stepped up to help our homeless heroes through the purchase of a HERO TABLE: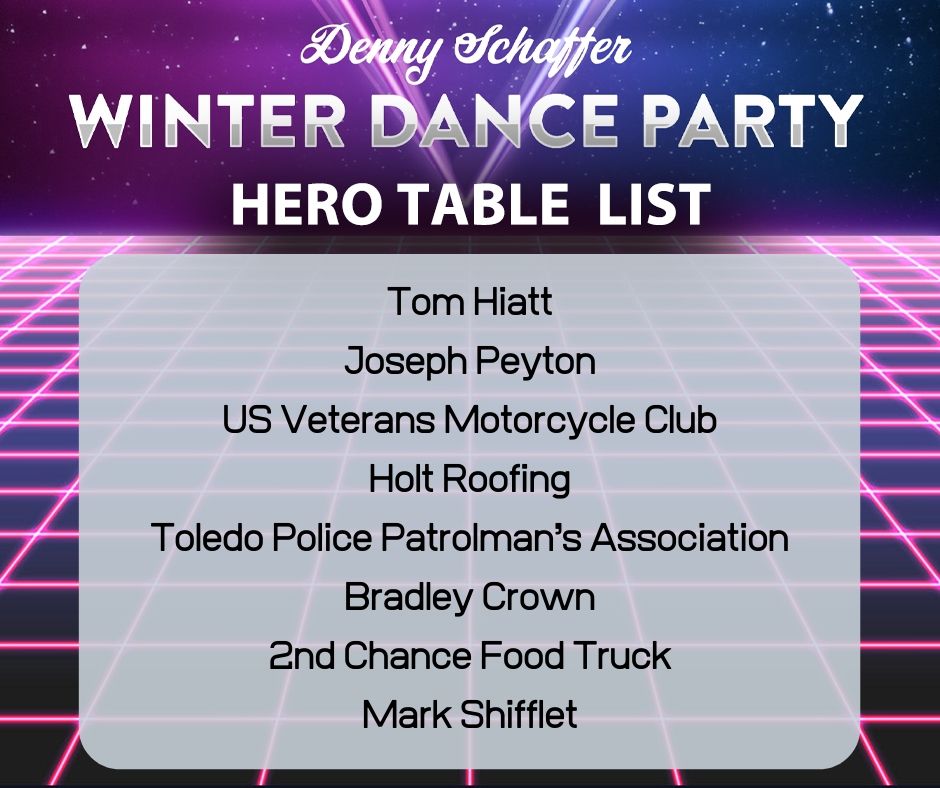 TAKE THE ELEVATOR HOME
Once again the Park Inn by Radisson has set aside a block of rooms at the discounted rate of $92 plus tax for our disco party people. You can use this link with the promo code "Disco" or use the same word if you call to make your reservation. The number is 419 241-3000. Don't drink and drive, stay downtown, and take the elevator home.
Thank you Denny Schaffer for bringing the community together to make it possible for so many veterans to get housed. Your parties have now housed 371 veterans. On behalf of those dancers, partiers and veterans, we thank you.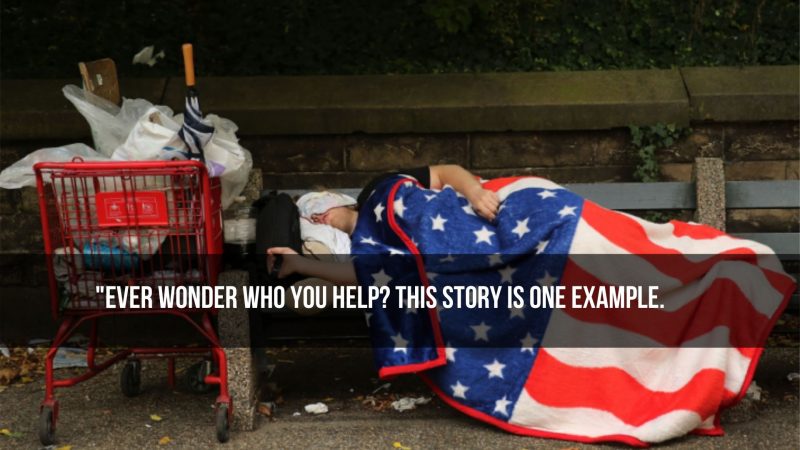 About Veterans Matter
Our mission is simple, house as many veterans as we can, as fast as we can.
Started here in Toledo to house 35 local homeless veterans, with the help of such music industry friends such as Dusty Hill of ZZ Top, John Mellencamp and Mitch Albom, the founder, Ken Leslie, expanded the program nationwide.
Our goal for 2020 is #Mission1000more. The proceeds from this event will help Veterans Matter further this mission. You will be joining this once-in-a-lifetime opportunity to help create a national movement which started right here in Toledo!
Veterans Matter is a program of
1Matters.org
, the Toledo based non-profit sparked and supported by John Mellencamp which since 2007 creates programs to move the unhoused to financial and domestic autonomy. Locally, 1Matters is known for the annual Tent City, which takes place each October.