As you know, EVERY single dollar we deploy results in housing a veteran or veteran family with children into a long term VA program that has a 91% success rate keeping them housed. And right now your single donation could house twice the number of veterans with the First Nation Jordan Reses dollar for dollar match.
And it is truly urgent – so you can make it a Giving Wednesday, Thursday, Friday, or any day a Giving Day when it comes to veterans on the street!
We don't want any veterans or veteran families with children sleeping in their car tonight if they don't have to. Since October 1st we have raced to house 104 more veterans! Year to date 526 have been housed, already more than the 372 housed all of last year. To give you an idea, the graph shows you the 3 year comparison.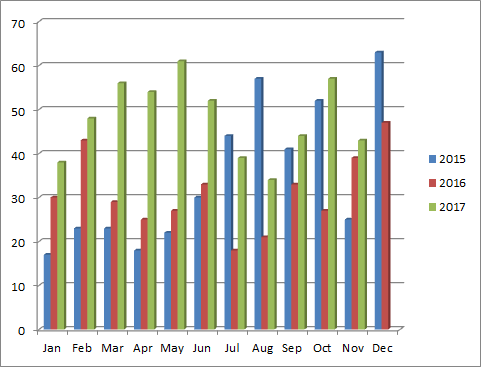 We are finding out that with other sources drying up, the veterans in need are relying on us more and more. Which also means we are deploying the funding for our areas of operation as soon as it comes in. And we think that is a good thing. We want to house as many veterans as we can, as fast as we can.
Now is when all of us who care about the veterans on the streets can rally-up to make double the impact!
As many know, First Nation Jordan Reses, a company VERY committed to veterans is again matching every dollar we raise, up to $200,000. We have $20,000 left in that match, so every dollar you give right now will be two dollars. 
And no lie, there are veterans literally waiting today who can be housed today! They just need the deposit.
It's so simple, and it breaks our heart to think of those veterans who will be sleeping in their car tonight.
To date, we have housed over 1,800 veterans nationwide. Our work isn't done until there are no longer veterans sleeping on the streets or in their cars.
This Giving Tuesday (Or Wednesday, Thursday, Friday, Saturday, well, just make any day a giving day!) help us give twice as many veterans and veteran families with children a home for the holidays.  
So double your impact, donate on-line right now while you are thinking about it – just click here. You can also tell your friends, family, or the brothers and sisters at your Post or Club that they can text "VETS" to 41444 and click through to donate any amount – $5, $25, $50, $500 – every dollar counts and means twice the veterans are one step closer to being in a home tonight, rather than a car.
They are counting on us to be there for them. #BeTheirAdvocate
Thank you so much for caring, we take care of our own.
Onward – Homeward,
Ken Leslie
Advocate in Chief
p.s. And if you would like to QUADRUPLE YOUR IMPACT, please share this email with everyone you know who cares about veterans as much as you do, or post it on your social media. On behalf of those you will help, we thank you!