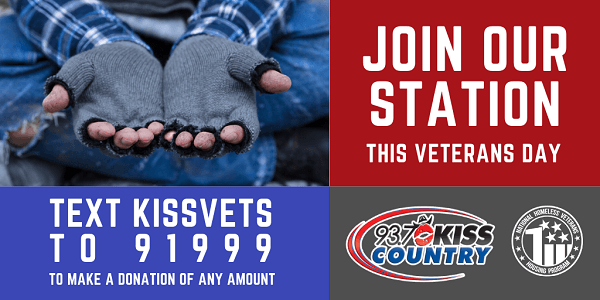 Operation Fresno
(This just in! DOUBLE YOUR IMPACT! First Nation Group, a company committed to helping all vets have a home for the brave, supports Gnarley Charley and KISS Country's efforts and will match every dollar you donate up to $50,000!!)
Thank you for supporting Veterans Matter and our KISS Country Operation Fresno Campaign. Your support right now will literally change the life of a local veteran or veteran family with children living on the streets!
You are joining others who share your bond of compassion for the abandoned veterans on the streets. Now you can proudly say you have helped over 3,200 veterans get housed in 22 states nationwide.
We hope you will spread the word so others who care as much as you do, can join you.
You can join the Veterans Matter Facebook page here, and the 93.7 KISS Country page here.
On behalf of all of the Fresno veterans you will help house, we thank you!
Gnarley Charley and the 93.7 KISS Country Team
About Veterans Matters
The Veterans Matter Homeless Veterans Housing Program was created to house 35 local homeless veterans in Toledo, Ohio. It grew when celebrities such as Dusty Hill of ZZ Top, John Mellencamp and Mitch Albom asked founder Ken Leslie to expand the program to their home states.
Partnered with the VA Homeless Veterans Program, to date, the group's Homeless Veterans Housing Program has now helped over 3,200 veterans obtain permanent housing in 22 states.
With the initiative of 93.7 Kiss Country, the program will expand to house Fresno veterans.