Kix Brooks official press release:
KIX BROOKS NAMED HONORARY CHAIR FOR VETERANS MATTER – TENNESSEE CHAPTER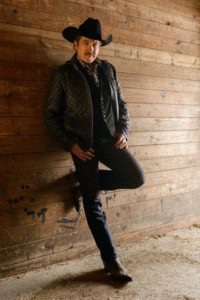 FOR IMMEDIATE RELEASE
Tuesday, February 18, 2014
TOLEDO, Ohio – Award-winning recording artist and country music star Kix Brooks is the first honorary chairman of the Tennessee chapter of Veterans Matter, expanding the reach of an organization focused on providing housing to as many of our veterans as possible, as quickly as possible.
There are more than 57,000 homeless veterans across the country, and in Tennessee, 991 vets don't have roofs over their heads.
"It's really important to me that we take care of our service men and women," said Brooks. "There are so many precautions taken to be sure they're safe while they're serving, but we also need to keep in mind what happens when they get home. Too often, they have been abandoned and forgotten on our nation's streets and Veterans Matter is an organization that I am honored to be involved with for supporting veterans who need assistance getting back on their feet."
Veterans Matter partners with the U.S. Departments of Veterans Affairs (VA) and Housing and Urban Development (HUD) to help house homeless veterans. While voucher-assisted living is currently available to about 170 Tennessee veterans, rental deposits must be provided to landlords before veterans can move into their own apartments. Since rental deposits, averaging $750, are not easily or quickly covered by government programs, Veterans Matter speeds up the process by quickly funding deposits direct to landlords to get veterans immediately into housing.
"The support of Kix Brooks will undeniably save lives and help resuscitate health and dignity to those who have sacrificed for our country, and now are in dire need," said Ken Leslie, founder of Veterans Matter.
Brooks is focused not just on raising funds to support the mission of Veterans Matter, but to engage a wider audience about the issues facing veterans and their families through social media and public-service announcements. Ninety cents of every dollar raised goes to immediate housing for our country's military veterans.
"This is such a simple program. There are thousands of veterans and veterans' families on the streets tonight. Many are just waiting on housing they are already approved for by HUD and the VA, but just need the rental deposit to get in their home," said Mr. Brooks.
Since its founding in 2012, Veterans Matter has housed 180 veterans in 33 cities in five states.
Visit Operation Tennessee at www.VeteransMatter.org/Tennessee to learn more.
# # #
Veterans Matter is a program of 1Matters.org, and was started in 2012 by Ken Leslie, who was homeless before kicking drugs and alcohol in 1990. As the CEO of a small executive search firm since 1994, Leslie is a long time philanthropist dedicated to helping others in desperate need.
Following his run as one half of one of Country Music¹s most successful duos of all time, Kix Brooks continues his career as a solo touring/recording artist while simultaneously exploring new paths. With new production and lead acting credits for two recent film releases under his belt, he is currently nominated for the "ACM's National On Air Personality of the Year," which follows Brooks' third CMA "National Broadcast Personality of The Year" win for his radio show American Country Countdown. Brooks also hosts his Kickin' It with Kix radio show five nights a week, co-owns Nashville's award-winning winery Arrington Vineyards, is a columnist for Country Weekly and has recently added public speaking to his resume. For a list of upcoming tour dates and more information on new projects, visit www.kixbrooks.com.
Contact:
Veterans Matter: Jean Mollmann jean[at]veteransmatter[dot]org
Kix Brooks: Tyne Parrish, The GreenRoom, tyne[at]thegreenroompr[dot]com