Help Move Our Veterans from Cardboard 2 Headboard
K-12 Lesson Plans to help students understand the meaning of service and sacrifice and to respond to issues surrounding US Veteran homelessness
ABOUT VETERANS MATTER:
Veterans Matter is an innovative cloud-based rapid-response system – partnered with the VA's Homeless Veterans program (HUD/VASH) – which allows the homeless veteran to get housed in literally minutes rather than the 30 to 60 days normally required to obtain the deposit. Essentially your donation is used as a deposit paid directly to the landlord to allow the veteran or veteran family to cross the threshold into a warm place called home for a fresh start.
Since our inception, over 3,600 Veteran heroes and their families have been placed into long-term, safe and secure permanent housing nationwide thanks to Americans just like you who care about Veterans as much as we do.
LESSON OVERVIEW:
The following lessons and activities are intended to help school age children not only learn the value and significance of service and sacrifice, but also the crisis surrounding veteran homelessness. Students can identify important veterans in their lives and become familiar with the veteran homelessness crisis in America, including what they can do to move our Veteran Heroes from Cardboard 2 Headboard. These activities fulfill CCSS Standards in ELA, Art, and Social Studies.
While these lessons and activities are targeted to students in grades 5-12, any school age child can participate with parental assistance. Students may choose to complete 1 or more of the following 4 activities.
SHARE OUR K-12 ONLINE LEARNING TOOLKIT
Activity #1: Warm-Up Activity
Many of the Veterans housed through Veterans Matter have children. Over the last 8 years, Veterans Matter has helped over 1,400 children move from the cold, hard streets to the safety and comfort of a warm bed.
Watch the video below featuring students from military families living here in the U.S. and around the world.
Things to consider while/after watching the video:
What are some of your thoughts about having a parent in the military? What are some of the positive aspects? Are there negative aspects?

Imagine what it might be like to be a homeless child of a veteran.  What might you be thinking and feeling?
Activity #2: Interview with a Service Member/Veteran
Do you know a service member or veteran? Consider setting up a video or phone chat to learn more about what it's like being a veteran. Write up a short paragraph about what you learned.
Below are 10 interview question ideas:
1. What branch of the military did/do you serve in?
2. What motivated you to join the military?
3. What is/was your primary job after training (MOS)?
4. How many/which years did you serve in the military?
5. Have you traveled to another country for the military? If so, where?
6. What was the 'best' and 'worst' military food you ever ate?
7. What was the strangest or most uncomfortable place you ever had to sleep?
8. Who was your closest friend while you were serving, and what is your favorite memory of them?
9. Do you have any family members in the military? If so, which branch(es)?
10. What was the most rewarding part of being in the military?
Activity #3: Understanding Veteran Homelessness
Homeless veterans are individuals who have served in the armed forces and who are homeless or living without access to secure and appropriate accommodations. Imagine serving your country, putting your life on the line to protect and defend it, and then being abandoned, alone on the cold, hard streets.
After watching select videos and exploring the websites (including our Veterans Matter website), students will be able to do the following:
1. Empathize with formerly homeless veterans
2. Communicate about issues that result in a veteran becoming homeless
3. Understand statistics surrounding veteran homelessness
4. How, with support of average Americans, Veterans Matter is helping in the fight to end veteran homelessness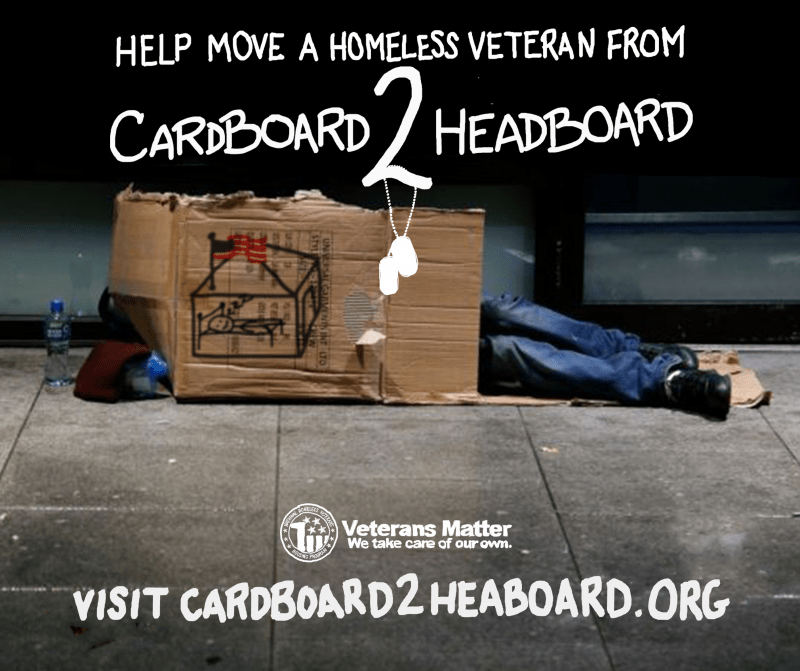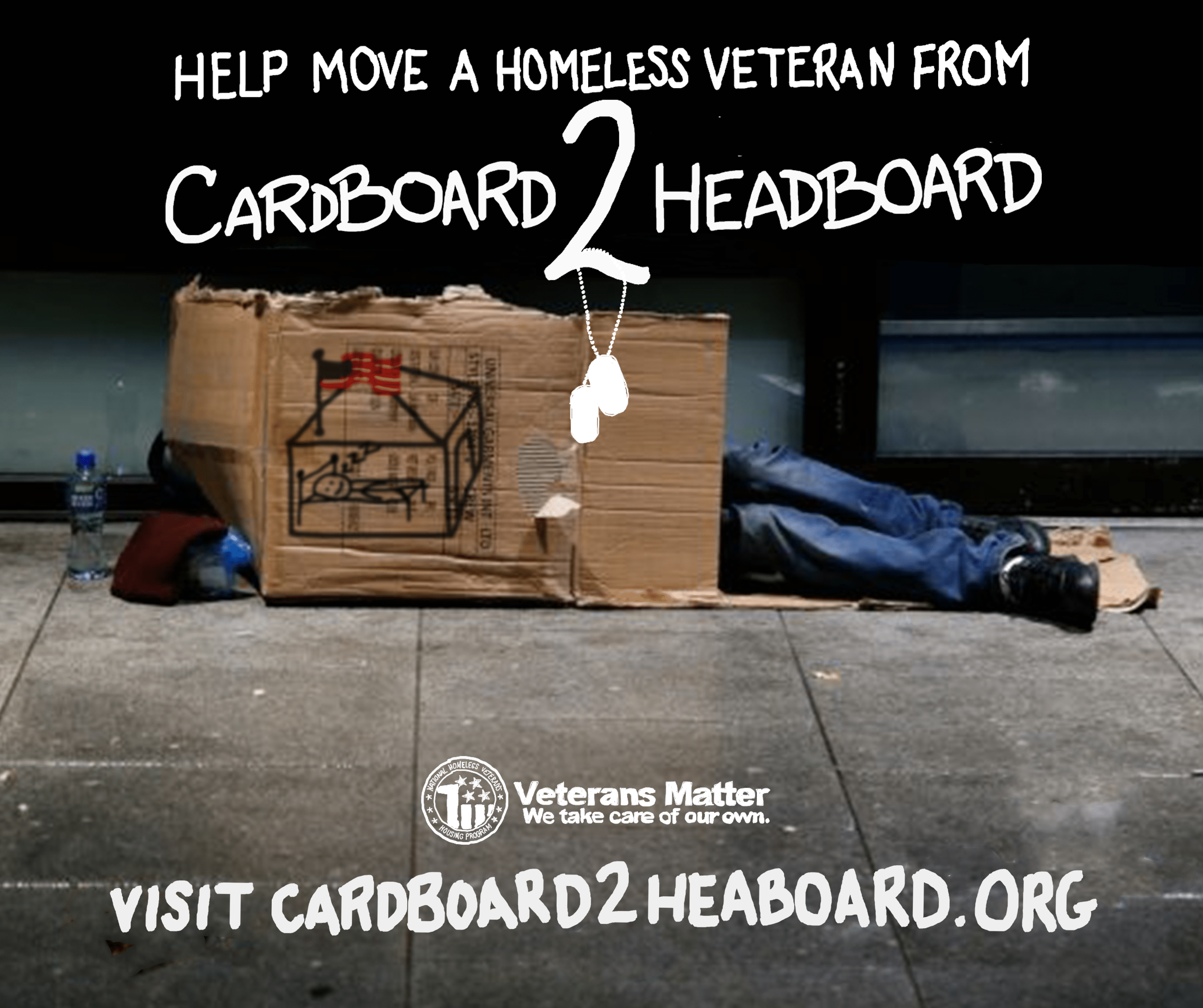 Activity #4: Advocating for our Veteran Heroes: Art Project
Turn the knowledge your child/student gained in the previous 2 activities into a creative, service-learning art project!
Join the Cardboard2Headboard Movement! Veterans Matter has helped to house over 3,600 homeless veterans, but there are still more than 40,000 homeless heroes in the United States. Help us move those veterans from cardboard (streets, homeless shelters, cars) to headboard (a warm, safe bed in a home of their own).
Help spread awareness about veteran homelessness by writing your own cardboard message and posting a picture on social media to share with your family and friends using the #Cardboard2Headboard or by uploading your images directly by clicking here.
Cardboard message ideas:
I helped move a Veteran home!
Sheltering-in-place is hard to do when you don't have shelter.
Our Veterans are not alone – they have you.
Veterans need us!
Help me move a homeless veteran from Cardboard2Headboard.
I just helped to move a homeless veteran from Cardboard2Headboard.
We don't know them all, but we do owe them all.
I <3 Our Veterans!
Be creative – write an inspiring message or picture of your own to bring our heroes home for good.
Be sure the use #Cardboard2Headboard in your post so we can see and share your commitment to our Veteran Heroes.