When you were in school, how much would you have paid to get out of a homework assignment? If you knew the money was going to help a homeless veteran, how much would you have paid?
The Student Council of Central Elementary School in Portage used a "$1.00 Homework Pass" as a way to raise money to house homeless veterans. They donated the money to the Portage Exchange Club's Veterans Matter Project.
Last year, the project raised about $200, but this year the students far exceeded that amount.
Brad Clapp – Exchange Club member, Air Force Veteran and father of Central's first grade teacher, Angie Clapp Cruz – was invited to accept the check.
Clapp said, "I was invited to Central Elementary School on December 21 to be presented with a check from the Student Council.  Little did I expect anything like the check I received! This year the Council proudly handed me a check in the amount of $700!  I thought I had read it wrong at first, but they assured me it was correct. "He explained, "It seems the fourth graders always have LOTS of homework given to them over the Christmas Break, so the fourth grade teachers allowed them to pay $1 for each assignment that they were to be given. That made a big difference in the amount raised this year."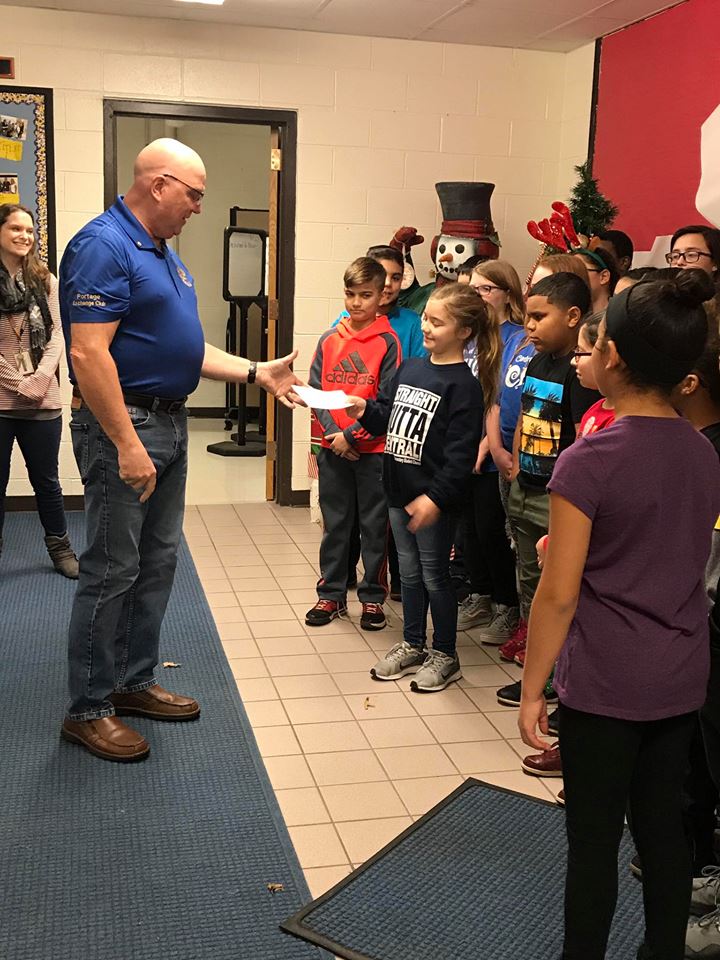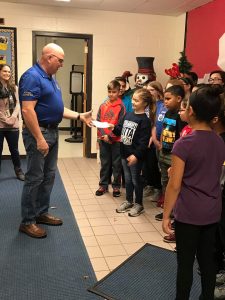 Teacher Angie Cruz said, "All grades (k-5) participated in purchasing the homework passes. Each grade set the criteria in using the passes, so it varied per grade. The passes were sold for a whole week and could be used as grade level teachers determined. "
The Portage Exchange Club has participated in the Veterans Matter project since 2015 when the National Exchange Club began partnering with an organization called Veterans Matter, founded by comedian Ken Leslie.
In the past three years, the Portage club has been able to provide the monies to house 12 veterans. Now there will be 13, thanks to the Homework Pass fundraiser. Clapp shared this with the Central Student Council members.
"I told them that they alone housed a Veteran and his family this year, and you should have seen the smiles. Their faces were beaming!  If you know any child or teacher from Central Elementary, please tell them how proud we are and how thankful the Veterans Matter project is because of them."
The Portage Exchange Club would also to thank the following teachers from Central for their help with this project: Ms. Shannon Brown, Mr. Jen Cooper, Ms. Danielle Jacobs.
Click here to watch an awesome commercial the students made for this event. 
For more information, click the following links: