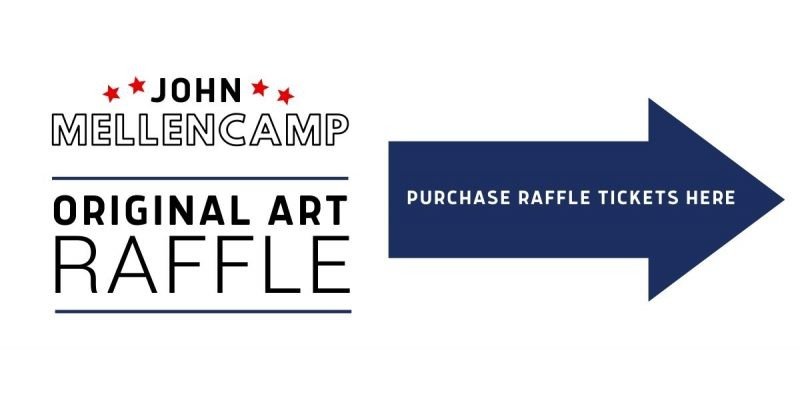 John Mellencamp has generously donated a lithograph of his original artwork 'Dignity in America' to Veterans Matter, a nonprofit dedicated to housing homeless veterans. The framed, signed, and numbered 18 X 18 lithograph includes a Certificate of Authenticity. This piece will be raffled off in an online fundraiser benefiting Veterans Matter's Cardboard2Headboard campaign to help house veterans throughout the United States.
Mellencamp's artwork is evoking "the raw and sometimes unsettling beauties of the human condition and often include themes of passion, struggle, and social justice." John Mellencamp is represented by ACA Galleries in New York City. View John's complete catalog of works on his website John Mellencamp Paintings and Assemblages.
"For over a decade John has stood with us to help the unhoused to become housed. John is joining us now to get the word out about our Cardboard2Headboard campaign, and raise funds to get homeless veterans their own independence – a home for the brave in the land of the free," says Ken Leslie, founder of Veterans Matter. "Housing America's homeless heroes unites all Americans across party lines. Together, we will never quit fighting for their independence, just as they never quit fighting for ours."
The five-dollar raffle tickets are available for purchase and a winner will be announced on September 1, 2020. Every $5 donation to Veterans Matter is another chance to win. In addition to a chance to win, in this age of COVID-19, each donor will know they helped another veteran off the streets tonight.
Show your American pride this Independence Day by helping give a veteran independence in a home for the brave in the land of the free.
About Veterans Matter
Our mission is simple, house as many veterans as we can, as fast as we can. Partnered with the VA's Homeless Veterans program (HUD/VASH) – every dollar deployed by Veterans Matter results in another veteran housed in LONG-TERM, permanent, supportive housing with a 91% success rate keeping them housed. To date we have housed over 3,800 veterans in 25 states. For more information visit VeteransMatter.org