There's been a lot of talk in the news recently about a certain nonprofit organization meant to help veterans. It is being accused of lavish spending and large salaries for its executives. The good thing about this is it makes donors, funders and corporations take a harder look at all of the nonprofit organizations they give to as well.
The first things we want to know when we give to a non-profit are: Is it legit?  And where will the money be spent once it goes from our hands to the nonprofit? We figure you do too, so we tell you.
Veterans Matter is simple: Your donations immediately and exclusively help move veterans off the streets and into ready housing, while preventing another from becoming unhoused. As stated elsewhere, we view Veterans Matter not as a perpetual charity, but as a mission to accomplish one task: help house as many of the almost 48,000 chronically homeless veterans as we can, as fast as we can. Once we raise what we need to help veterans get housed in an Area of Operation, we stop raising funds for that area and move on to the next.
Veterans Matter is a program of nonprofit 1Matters.org founded by Ken Leslie , sparked and supported by John Mellencamp and others in the music industry. 1Matters.org works to help all of those on the streets, not just veterans, obtain domestic autonomy. We focus always at the root solution.
We hold the highest rating on transparency with Guidestar and 1Matters is managed by a Board of Directors composed of five local and five national directors. We are not large enough yet to be rated by Charity Navigator or the Better Business Bureau listings. This link takes you to our 2014 990.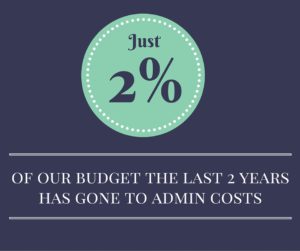 Administration Costs
For both 2014 and 2015, "Admin Costs" were 2%. These are the bank fees, credit card charges, printing, as well as contracted services such as audits, accountant, salaries allocated for administration etc. A corporate donor donated most of the overhead in 2014 and 2015 in-kind (rent, phones, computers, internet), our informational videos have been produced in-kind by teams in our areas of operation, and our online cloud-based referral system is donated in-kind as well. To give you an idea, Ken Leslie, Advocate in Chief, is so cost-aware he "panhandles" frequent flyer miles whenever he can for his travel rather than have a huge travel budget. (So if you have miles to spare you can donate them to us, contact us for details.)
Program Costs
On the program side, we are doing extremely well at maintaining low program costs due to the commitment of the staff. As for salaries, the Advocate in Chief, Ken Leslie, left his six-figure role as CEO of the search firm he started 20 years ago to work full time on Veterans Matter. Ken is now paid a salary of $39,000 per year. Our National Program Director Shawn Clark, a former Jeep Executive Administrative Assistant (and a veteran herself) and our National Director of Communications Holly Tuey, who worked in a similar role at a CBS affiliate, both are paid $12 an hour and work 35 hours a week. This is a major decrease from previous positions they have held elsewhere. All three feel the opportunity presented to house so many veterans and create this national movement justifies the salary sacrifice.
Fundraising Costs
This is usually one of the largest expenses for most national nonprofits, after salaries. Rather than hire fundraising companies that charge a 30% – 40% commission, we are first attempting to raise funds quickly and directly from regular Americans who too feel the debt to our veterans. So far it is working well. Direct donations through our website incur a 3% – 7.5% credit card charge, while mailing your checks to us has zero charges. So we ask you to help us do whatever it takes to get as many as we can off the streets as fast as we can without needing a fundraising company. Your support today helps do just that. Click here to donate and help now and share this with a friend.
Bottom line: Ken started Veterans Matter because he saw a small hole locally, then discovered the small hole is a national problem, and it was our veterans who were falling through that hole. So after consulting with several national experts and our music industry supporters, the Board of Directors decided that we had to try to help as many veterans as we can, as fast as we can. That gets you to right here, right now.
Interested in getting more involved? Visit our welcome page right here or send us your ideas!
Veterans Matter. We must take care of our own.