After Ken and Denny's appearance a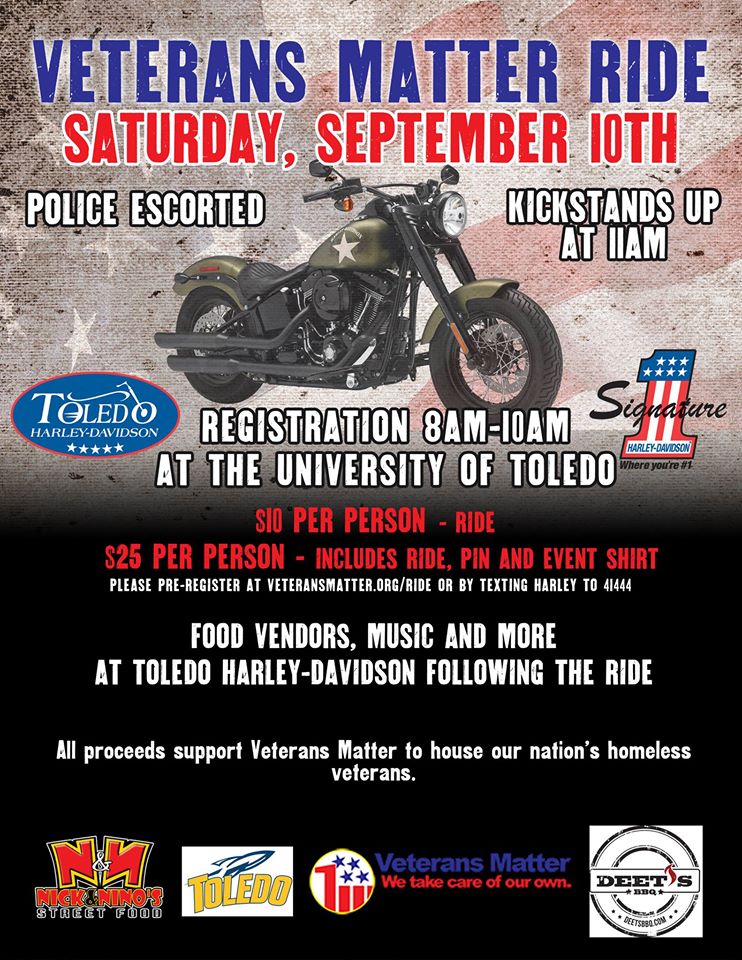 few weeks back on Jerry Anderson's show, Leading Edge, Ken was approached by an incredible woman named Karen Huss, the general manager for Toledo Harley-Davidson. Karen said Harley-Davidson was a very veteran-friendly company, and they wanted to do something to help us get more homeless veterans off the streets of this nation.
Not long after, the first Veterans Matter Ride was planned by Toledo Harley-Davidson and Signature Harley-Davidson, in Perrysburg, OH. Add Haraz Ghanbari, Director of Military and Veterans Affairs at the University of Toledo, and the ride became part of UT's Military Appreciation Day and football game.
We think this partnership between Veterans Matter and Harley-Davidson is a great fit because so many Harley owners (and riders) are also veterans. They want to take care of their own, too. And Tim Sherman, the dealerships' owner, has always helped veterans.
The ride will be September 10, and will start at 11 a.m. on UT's campus. Riders will make their way to Toledo Harley-Davidson, where there will be music and food from local vendors – such as Nick & Nino's and Deet's BBQ – waiting for them.
Then, bikes will ride the flag and mascots into the Glass Bowl Stadium at UT to start the football game. At the same time, there will be a flyover! Wow.
Tim, Karen and the others at Harley-Davidson are pulling out all the stops. They're even producing a commercial for the ride with Tim, Ken, Haraz and Toledo Police Chief George Kral that will be airing soon. This is going to be an awesome event. If you don't have a motorcycle, you may want to find a friend who does and convince them to let you ride with them. Or perhaps it's time to go buy one?
You can pre-register by texting "Harley" to 41444 or online now. Cost is just $10 per rider, or $25 if you want a pin and event shirt. All proceeds will help house more homeless veterans in our community, state and nation. We take care of our own.