What an amazing experience Veterans Matter had Saturday, September 10th as part of the University of Toledo's Hero Appreciation Day and game.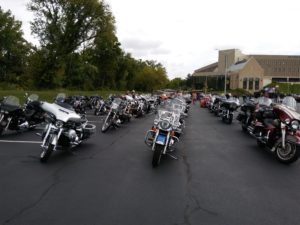 In the morning we witnessed the compassion of more than 100 Harley-Davidson enthusiasts as they rode from the University of Toledo to the Toledo Harley-Davidson shop on W. Central Ave. Great thanks go out to Tim Sherman and Karen Huss of Toledo and Signature Harley-Davidson for organizing this amazing event to help house our nation's homeless heroes!
An emotional welcome speech from Haraz Ghanbari (Director of Military & Veteran Affairs at UT) moved the crowd before the ride.
Thank you all for your continued support of not only our homeless heroes but ALL heroes!
And that was just Saturday morning!
The Saturday evening thank you FROM the veterans!
As part of the University of Toledo's Hero Appreciation football game at the Glass Bowl, 15 local formerly homeless heroes who were housed by Veterans Matter thanked the local community and nation. They showed their appreciation by unfurling the nation's flag during the Star Spangled Banner as two F-16 fighters from the 180th roared overhead to start the University of Toledo's first home football game.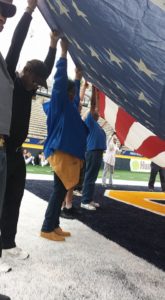 This was their way of saying thank you to the community at large for helping them, as they now work to help others. Most were overwhelmed by the impact of the National Anthem, F-16 fly-by, and the roar of the crowd.
Thank yous go out to Haraz Ghanbari and Heather Lutz (Assistant Athletic Director for Marketing and Sales at the university) who coordinated everything to make this happen for the veterans!
Exhausting weekend to say the least! Heartwarming to see our community come together to honor those who have sacrificed so much for their country.
God Bless America!