The advent of technology has seen incredible strides in making human lives more comfortable, productive, and efficient. But it's also created more accessible means of giving back. You've probably encountered it checking out at the grocery store: "Would you like to round up your total to donate to prostate cancer research?"
Everyday institutions have started employing these opportunities more and more, offering the chance to give small amounts easily during a credit card transaction. This means people are more likely to give.
If you're willing to donate 78 cents each time you go grocery shopping, that seems more feasible than shelling out a $100 donation once a year. Instead of having to write out a check, address an envelope, and buy a stamp, people can slide their credit card, pay for groceries, and donate, simply by pressing a button. It might not seem like much, but more people donating small amounts adds up to big change. More potential donors are reached, and when people give once, they're likely to give back. For example, supporters who favorite a nonprofit on eBay give up to 20x more.
Veterans Matter is signed up through our parent nonprofit, 1Matters, with both eBay and Amazon, so give back next time you shop or sell! All monies collected via these sites go to Veterans Matter.
eBay Giving Works
Find charities signed up with eBay and mark your favorites. As a seller, you can list any item you sell of your choice and donate between 10-100% of the proceeds.
AmazonSmile
Browse the same online shopping sphere with AmazonSmile as you would with any other purchase on the Amazon site, and the foundation will give 0.5% of the price of your eligible purchase toward a charity of your choice.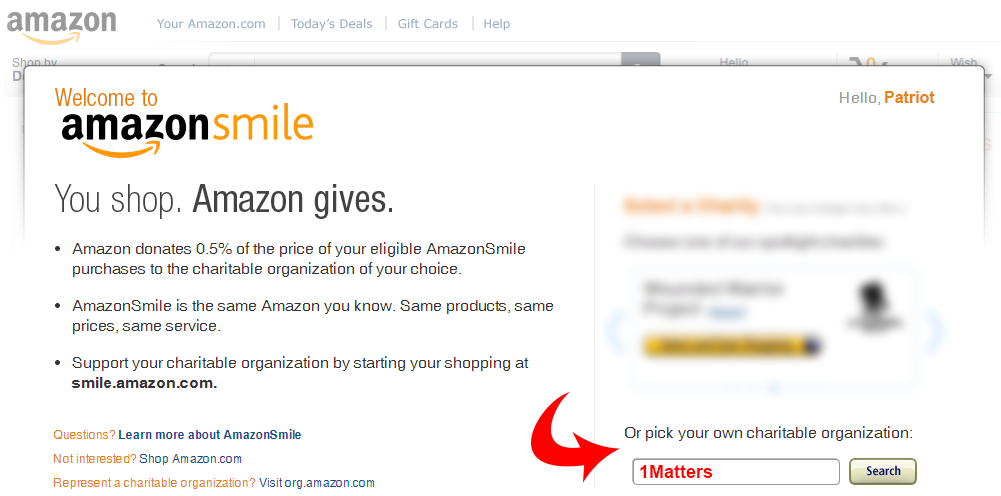 Other sites you can use to give back to other charities:
Round It Up America
Participating restaurants choose 3 charities as grant recipitents, then offer their patrons the opportunity to round-up their tab to the nearest dollar to give to any of those 3 charities.
Round Up
Sign up to get any odd figure rounded up to the next sum every time you use your credit or debit card. You can also sign up to do it on utility and mobile phone bills. 100% of the extra change goes to the charity!