For our site visitors who aren't yet following us on Twitter or Facebook – here are some highlights from the past week on social media from Veterans Matter.
We…
… Wished Happy Birthdays toVeterans Matter advocates Brad Mates and David Pichette of Emerson Drive!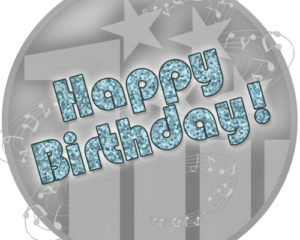 … Went out to Wauseon for support on the tracks!
… Thanked Marathon Classic for including Veterans Matter in their Charity Ticket Program.
… Were able to help a local veteran in need… Last Friday at 4 PM we got a call about a local disabled veteran who was living in an uninhabitable situation without electricity. Thanks to the Lucas County Veterans Service Commission funding of a "Guardian Angel Fund" – we were able to get that veteran into a hotel by 6 PM. Thank you VSC! Toledo takes care of our own!
… Are making sure our local Toledo riders get registered for the Veterans Matter Harley Ride coming up in September.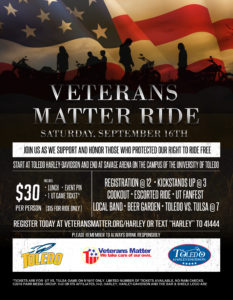 … Highlighted Operation North Carolina. Thanking Exchange Clubs across the state for putting a patriotic foot forward and helping Veterans Matter house the homeless veterans of North Carolina – 24 housed so far!
… Are honored to have advocates like First Nation Jordan Reses – who, for the second year in a row, are matching donations to Veterans Matter (up to $200,000!).