Steve Baugh Selected as Veterans Matter National Advocate of the Year
Veterans Matter proudly announces the 2017 "National Advocate of the Year" award is presented to Steve Baugh, President of First Nation Jordan Reses. Steve is being honored for his leadership and consistent focus on helping homeless veterans still on the street find a place called home.
"In 25 years of helping those on the streets I have never met a more powerful spirit of compassion and leadership than Steve Baugh. Steve is a true hero to the heroes on the streets." said Ken Leslie, Advocate-in-Chief of Veterans Matter
Leslie cites not only the strategic partnership between the two organizations, but the innovative leadership Steve exhibits on the corporate stage as reasons for his selection.
After hearing Ken on the radio in February of 2015, Steve invited Veterans Matter to present to the First Nation Jordan Reses philanthropy team at corporate headquarters as they were looking for a new veteran's charity to support. The team decided to grant $40,000 to Veterans Matter. After literally seeing the results their grant immediately produced – nearly sixty veterans housed in 90 days – they allocated an additional $60,000.
Steve is one who loves leveraging opportunities, and the following year First Nation Jordan Reses thought to use the company's 2016 grant of $200,000 as a match to inspire additional giving nationwide and help twice as many veterans. This success led to the company repeating the match in 2017.
But with so many veterans still on the streets, this wasn't enough for First Nation Jordan Reses. The innovative Steve Baugh pitched one of their suppliers, Fisher Paykel, on the idea of rebating back 1% of all First Nation purchases to Veterans Matter. In 2016 this amounted to over $43,000 to house even more homeless heroes and this too was repeated for 2017.
"This is not a company that only makes a donation. Steve and CEO Cheryl Nilson have created an entire organization where compassion for homeless veterans filters through every employee to the marrow of their bones," Leslie says.
Leslie credits nearly a third of the 1,900 veterans housed to date in Houston, Mississippi, Colorado, Florida, Indiana, Ohio, Michigan and North Carolina who have a place called home because of First Nation Jordan Reses.
"Steve Baugh is an inspiration to us, his organization and the nation. He is a homeless veteran's best friend, and we are proud to recognize his hard work." Leslie says.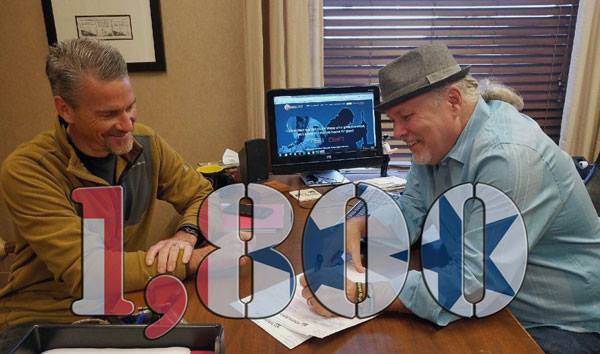 Photo Caption: Steve Baugh, President of First Nation Jordan Reses along with Ken Leslie for the signing of the check for the 1,800th veteran housed on November 4th.