I didn't ask him yesterday, but it is fitting that Tuesday is the day that national treasure, Mitch Albom, and his close friend, Dr. Chad Audi, chose to give away $1,000,000 to charity.
Yes. One. Million. Dollars. Donated to 20 charities that serve Detroit's most under-served. And for the fourth year this included Veterans Matter's Operation Michigan, of which Mitch is the founding Honorary Chair and founding donor.
If you wondered why a best-selling author, playwright, radio and television broadcaster, and musician would spend at least a third of his waking hours – and millions of dollars of cash, time, and energy to serve others here and abroad, you need to go no further than this: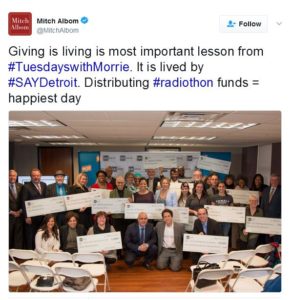 "So many people walk around with a meaningless life. They seem half-asleep, even when they're busy doing things they think are important. This is because they're chasing the wrong things. The way you get meaning into your life is to devote yourself to loving others, devote yourself to your community around you, and devote yourself to creating something that gives you purpose and meaning."  – Tuesdays with Morrie
Inspired by visits to his dying professor, Morrie Schwartz, "Tuesday's with Morrie" is a best-selling book that changed Mitch's life, completely. He took Morrie's words, "Living is giving" to heart and to soul.
I think where billionaire Dan Gilbert was the financial pillar that kept blood flowing, buying property when Detroit was in critical condition, Mitch Albom was the heartbeat that pumped that blood by keeping hope alive.
It is worth noting that nearly half of the charities which received funds yesterday from his fifth annual "S.A.Y. Detroit Radiothon" were started by "S.A.Y. Detroit," a charity created by Mitch and Dr. Audi, CEO of the Detroit Rescue Mission, to solve direct social problems. In fact, Mitch has started so many he had to create a website just to support them.
And these are not just little projects. For example the S.A.Y. Play Center took over a former Detroit rec center and turned it into a state-of-the-art academic sports and arts center for Detroit youth. To play there, students must have a 3.0 grade point average OR spend one hour studying or receiving one hour of one-on-one tutoring.
And get this, Mitch probably puts just as much time as a volunteer in the projects as he does money. This is the power of 1.
In the press release Mitch said: "This is our happiest day of the year, when we can share funding with our hardworking charitable initiatives as well as many worthwhile outside agencies that are doing incredible work to help Detroit's neediest. The radiothon is a gathering of generosity. Today is spreading of that generosity.''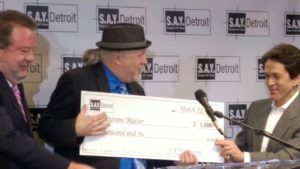 Since Mitch and Chad funded the start up of Operation Michigan in 2014, they were joined with funds raised by Katy Perry, Kid Rock, Michigan Exchange Clubs, and an incredible Michigan company, First Nation Group/Jordan Reses. All together these funds have now housed 267 Michigan Veterans.
But we all realize it is ONLY 267 homeless Michigan veterans housed, and there are many more who need us.
It is this need which is why for us, Chad, and all of the charities supported by Mr. Albom's compassion, we are so honored to be a part of Tuesday's with Mitch.