The Lincoln Park Exchange Club demonstrated what can happen when Exchange and the rest of the community come together for a cause. Last fall, that cause was to get our veterans off the streets and into their own homes.
Maureen Tobin, president of the Lincoln Park Exchange Club, says she met Veterans Matter Advocate-in-Chief Ken Leslie in August during Lincoln Park Days. When she and other club members heard about the Veterans Matter cause and how we help homeless veterans over the last barrier (the deposit) into a home of their own and a fresh start, they wanted to get involved. The club became one of several to hold an 11/11 @ 7 Rally fundraiser on Veterans Day.
Tobin says bringing different groups together was easy. The local VFW donated their hall for the event, as well as money from bar sales. Musician friends of hers donated their time to play at the rally, and all food served was donated. They then charged people $10 per ticket to attend.
The local radio station advertised the rally for free, and one of the DJs hosted.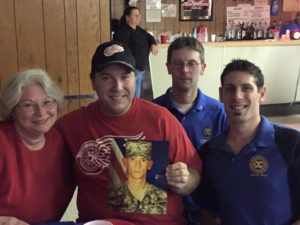 "It was just a great group of people all coming together to make this happen," Tobin said. "It just kept going and going. I hit every business in the city to see if they'd be willing to help. Everybody played a little part to make it all happen."
She says it only took 6-8 weeks to put together the entire rally. Businesses donated gift cards, which were raffled off at the event. The big raffle prize of the night – tickets were $20 each – was a Red Wings suite donated by a club member who works at PNC Bank.
"I thoroughly enjoyed going to each business in the area and explaining to them what the club does, and talking to them about Exchange and Veterans Matter," she said. "The response was overwhelming. I sometimes walked out with tears in my eyes because people were so generous."
The Lincoln Park Exchange Club raised more money with their rally than any other club – about $9,000 after expenses!
But Tobin says there were other benefits to holding the rally. "It changed the way a lot of people in Lincoln Park looked at service organizations, especially Exchange, and it brought awareness to Veterans Matter," she said. "I'd do it again in a heartbeat. I couldn't think of a better cause to help people."