For our site visitors who aren't yet following us on Twitter or Facebook – here are some highlights from the past week (or two) on social media from Veterans Matter.
We…
… Shared that June is PTSD Awareness Month – Reach out if you, or someone you know, needs help. Many Veteran Service Organizations, and the VA, are there to help those in need.
… Announced the amazing First Nation Jordan Reses donation matching of up to $200,000! Donate today – and they will match it to help house veterans even faster!
… SOLD OUT of General Admission tickets for the Summer Disco Party – only ONE VIP Table left! Contact disco@veteransmatter.org for more info – and quick!
… Gave an update on Area of Operation, Washington state. While numbers of homeless veterans did go up in the state between 2015-2016, we are determined to do our part – housing 60 veterans to date (11 this year!). Let's keep getting those veterans into permanent housing!
… Celebrated Flag Day.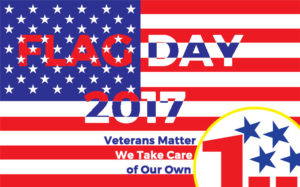 … Wished the U.S. Army a Happy 242nd Birthday.
… Proudly announced the 300th veteran housed in Ohio.