Are you a parent? If you are, you probably know what it feels like to want to give your children the world. But what if you couldn't even give them a roof over their head?
When we think of homeless veterans, we're more likely to think perhaps of an older man who is "down on his luck," sleeping under bridges or in shelters. But the truth is many veterans who end up homeless are parents. And when they lose their home, so do their children.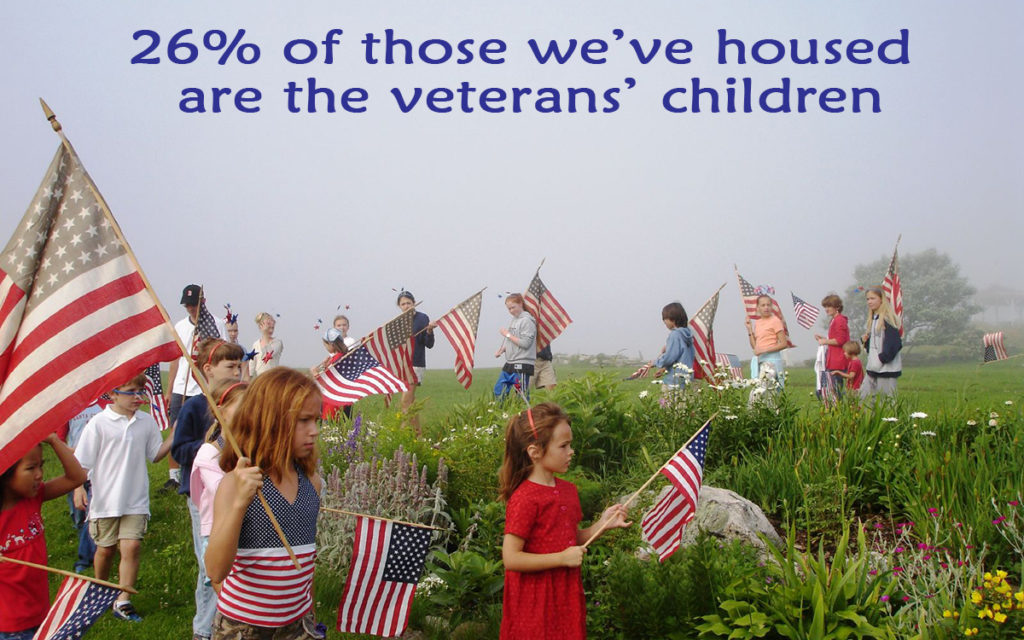 To date, we've housed 1,025 veterans, but we've also housed 148 spouses and 414 children.
According to the National Coalition for Homeless Veterans, a study by the Government Accountability Office found that more than 60% of organizations with Grant and Per Diem (GPD) programs, which help transition homeless veterans into independent living, did not have sufficient resources to provide housing for the veterans' children. The GPD programs that did provide housing often had restrictions such as the number of children or their ages.
Without those resources, veterans with families have even fewer options. It's heartbreaking to imagine children curled up next to their parents as they sleep in their car, or being separated from their parents by Child Protective Services.
These families need their own homes.
But they face many of the same challenges as single homeless veterans. Once they work with a caseworker to find HUD-VASH housing, they still have to come up with the security deposit and first month's rent.
HUD-VASH Caseworker Cory Glasgow told us about an OEF/OIF/OND veteran with a spouse and four children who were in this exact situation. They planned to stay with family until they could save up the deposit, but there were issues that resulted in them having to leave immediately. They hadn't been able to save any money yet, and the two shelters in the area had no room for them.
"I was going to refer the veteran to our local agency for assistance but after talking to him realized he was going to have to get additional documents that he didn't need for Section 8 but would need for the local agency," Glasgow explained.
The veteran was discouraged that his family would have to live in their car until he could get his birth certificate and three months of bank statements.
"A referral was made to Veterans Matter instead and the veteran was able to get the deposit assistance in less than a day (well, the landlord got the confirmation email, which they took as proof of payment). The veteran was thrilled and subsequently found a job a couple of weeks later and is now several steps closer to supporting his family, which is his treatment goal," Glasgow said.
Thanks to advocates like you who believe veterans and their families should never have to sleep in their cars, the family was able to get into a place of their own right away.
This is just one story. It accounts for just four of the 414 children of veterans we've housed to date.
But there are thousands more homeless veterans out there who want desperately to be able to support their families – but first they need a roof over their heads. We have the ability to prevent them from staying even one more night in their car or shelter. We want your help. You can become an advocate for them by clicking here and see what you can do, whether it is the least you can do, or the most you can do.
Veterans' Kids Matter too, we take care of our own.