Veterans Matter's very own Veronica Mora is currently en route to Arlington as part of the annual Wreaths Across America convoy. As a Gold Star wife, Veronica is among many others who are on this pilgrimage to remember, honor our veterans and teach others the importance.
We will be posting photos and updates from her journey to lay wreaths at the Arlington National Cemetery. Wreaths Across America is a non-profit that, over the years, has been providing and laying wreaths at veterans' graves across the nation. To learn more about how it all began, read more here.
Day 1 – Machias, Maine

Today was a perfect example of how people are placed in our lives for a reason, nothing is chance. Our shuttle driver from the hotel to the airport car rental office was not only a Vietnam Veteran but also has been involved with the Wreaths Across America convoy for the past 7 years. Unfortunately, he won't be part of the festivities this year due to family obligations.
Frank, aka "Spider", shared with us how Wreaths Across America has been his salvation against his inner demons. "Placing the wreaths on those graves at Arlington brought me to my knees. For the first time in a long time I was at peace for coming home when my brothers didn't." What should have been a quick 5 minute car ride turned into a nearly half hour conversation, complete with tears and hugs.
Thank you Frank for sharing your story with us.
Day 2 – Maine

Been up since 4:30AM and the day is still full of activities!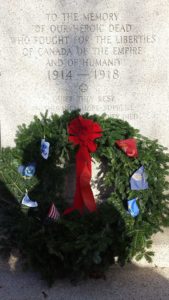 Started the morning placing a wreath alongside Gold Star families at Quoddy Point, the Easternmost point in the United States. From there we went to a Calais High School and had breakfast afterwards we placed another wreath at the local college.
O Canada! We trekked over to the US – CANADIAN border bridge and walked arm in arm together with the Gold Star Mothers and presented wreaths to the Silver Cross families of Canada. The Silver Cross families are the Canadian equivalent of Gold Star families. I met Laurie and Donny who lost their son in Afghanistan in 2007.
Now, on to the next adventure of the day!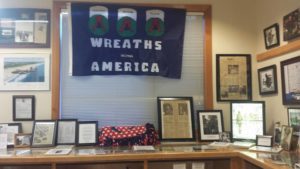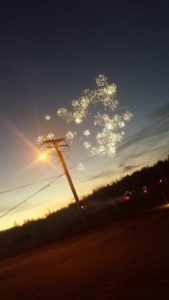 Veronica stopped in at the National Wreaths Across America Museum and Headquarters in Columbia Falls, ME before heading to a pre-dinner fireworks show.
Day 3 – Ellsworth, Maine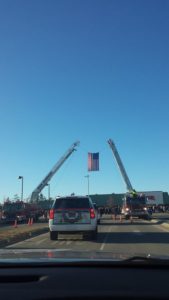 Wreaths Across America Convoy officially started at 8 am!
The convoy will travel through a total of 10 states and the District of Columbia, to reach Arlington, VA on December 16th.
Day 4
The Kennebunk Elementary School Choir came in to sing for the Wreaths Across America convoy despite having no classes due to snow. Oh my goodness they were cute!
Patriotism is alive and well here in Kennebunk, Maine. It's below freezing (31°) and everything is covered in snow, yet our convoy is greeted by throngs of people lining the streets.
[1:31 PM EST] Hellllloooo New Hampshire!
[3:28 PM EST] Massachusetts, the Wreaths Across America Convoy is here! #escorttoArlington #waa
Day 5
[11:45 AM EST] Here was my morning ride, Wreaths Across America Chevrolet Camero. I loved every minute!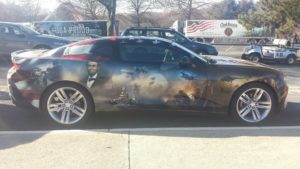 Looks like Veronica and convoy have made it to Connecticut – and what a patriotic ride!
[7:51 PM EST]  Start spreading the news…  New York! New York!
Day 6
[3:57 AM EST]  Why have I been awake since 0345? Because the Wreaths Across America Convoy is going to West Point!
Rest assured that pictures will come soon.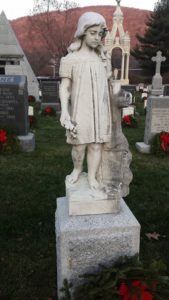 [7:43 AM]  Unforgettable sunrise service, breathtakingly beautiful to be surrounded by such valor.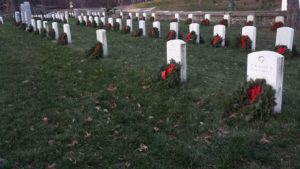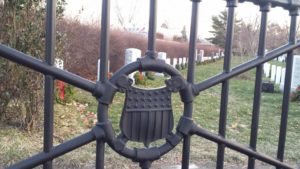 [1:32 PM EST]  New Jersey
Vietnam Veterans Memorial Look at that beautiful arch!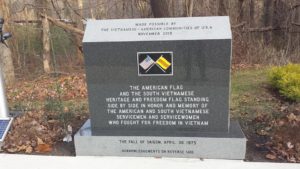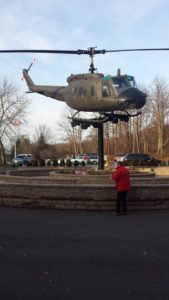 [8:19 PM EST]  Every Gold Star Family member on the Wreaths Across America Convoy. #WAA2016 #escorttoArlington #waa #WreathsAcrossAmerica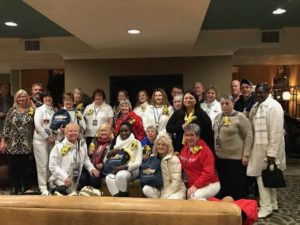 Another successful year for Wreaths Across America, over 200,000 wreaths placed upon the graves at Arlington National Cemetery of those who have served our nation. While this convoy from Maine to Virginia was the one we followed this year, there were thousands of other volunteers and family member laying wreaths upon graves across the country. We thank you all for your time and honor those that have fallen. Let us remember those who have served and look to the future for those that are still with us. A big thanks to Veronica Mora for taking us on this journey.