High School Students Host 4th annual Color for Camo Walk/Run
Youth Leadership Toledo (YLT) students want YOU — to compete in the annual Color for Camo Walk/Run on May 4, 2019 at Fossil Park. All proceeds from this students run event will be give to Veterans Matter in our mission to end veteran homelessness. 
During their nine-month Youth Leadership Toledo (YLT) experience, over 50 high school sophomores discover a lot more about their community: They learn how their skills, passion, and talents can be put to use to make a difference!  Early in the program, each YLT leader chooses to join at least five classmates to design and carry out a project – something that challenges them and teaches teamwork, critical thinking, time management – all important skills. The projects are varied – often arising from brainstorming or the melding of like-minded service leaders!!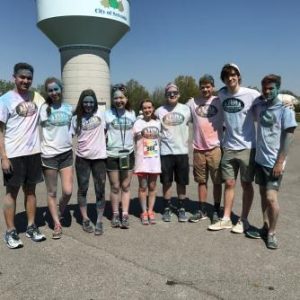 This is the fourth year for the Color for Camo Walk/Run. Orginally organized by Katie Karban of St. Ursula (currently a freshman studying business at the University of Michigan). The idea was first hatched at the Stranahan Theatre during a YLT team meeting. A month earlier, Ken Leslie had spoken at her school and her fellow YLT team members felt "the call" to serve, but didn't quite know how they could help.
"Let's build a house!" one of Katie's classmates said. While the idea to build a whole house for a family in need was in the right spirit, the team decided it might be more effective to raise money to provide housing for our homeless heroes and their families through a color run — and "Color for Camo" was born. Since then, the annual walk/run has helped to house over 60 veterans their families.
Eventually Katie went on to volunteer at Veterans Matter while on break from school. It was through this experience that Katie truly appreciated the work being done for our heroes and by average Americans who have that same "call to serve."
She said, "We wouldn't be able to do what we do at Veterans Matter if it weren't for the people. We didn't understand the power of what we were doing, but it opened the door to the world of service by just diving in. Great to see the Color is still continuing, that other students are taking that first step and pursue a life of service."
The project is now lead by Colin Smith, a 10th grader at Evergreen High School. 
"This event is important to me because it is an amazing way to give back to our forgotten heroes. Patriotism and respect for our military members is something has always been strong in my life." said sophomore, Colin Smith.
For Colin and the other students organizing this annual event, its not a "want" to house our homeless heroes — it's a "must!" 
The registration fee for those wishing to support the youth and veterans is $25! The May 4th event will begin at 10 am at Fossil Park Trail in Sylvania, Ohio. The Color for Camo Walk/Run will be two-miles of fun including color stations throughout, where volunteers will be throwing colored powder at runners.
Registration cost includes a t-shirt, post run refreshments, tons of fun, and the knowledge that you helped in the fight to end veteran homelessness. 
Colin, and his YLT team members, wants this run to have a lasting impact for all involved. He said, "We want this run to be something that inspires people to be more active in their community and also for it to be the changing factor in one or more homeless veterans and their families."