In this touching video introduced by John Mellencamp, four of the veterans housed by Veterans Matter share their stories of moving from homelessness, to housing, as well as expressing their gratitude to all of you who have helped.
Home Again: In Their Own Words
Heroes Housed
You have helped more than 3,300 veterans and their families into their own homes for a fresh start. Here are just a few of their stories …
A Vet's Best Friends
A veteran worked on his feet every day, challenged by neuropathy while working in shipping, receiving and deliveries. After getting laid off when the company downsized, the veteran began to experience increased marital problems, primarily due to financial hardship. Shortly thereafter, the veteran foreclosed on the home he had lived in comfortably for seven years.
Following the foreclosure, the veteran and his wife split up. The veteran still had his four-door sedan and two dogs, Rocky and Ginger.
By Christmas, he had been living in his sedan with Rocky and Ginger for 10 months. He had run out of money, food, warmth and hope.
He felt overwhelmed and decided anything would be better than sitting in his car freezing. He proceeded to drink a large amount of anti-freeze. His dog Rocky began pulling on his arm, nudging him and whining.
The veteran had almost lost consciousness, but with Rocky's encouragement he decided to call 911. He was admitted into the hospital and survived the attempt on his life.
"If I hadn't had them, I probably wouldn't be here. Taking care of my dogs and keeping gas in the car have been my priorities over the past 4 years," the veteran told his VA caseworker years later.
The veteran says his experience of getting approved into the HUD-VASH program, as well as finding housing to accommodate his dogs, really took a lot of pressure off of him. When he received the news of approval for housing, tears rolled down his face as he exclaimed, "It just hit me! This is going to be over and I didn't hardly have any hope left. I'll finally have a place to live."
The last obstacle to housing was finding an organization willing to provide the money for the pet deposit as most programs prohibited it. The veteran was unwilling to move forward without his companions Rocky and Ginger.
"I wasn't sure where the money would come from but I remained real hopeful," he said.
A request for assistance was submitted to Veterans Matter. The veteran waited anxiously for the decision. After hearing the story it was a no-brainer – we immediately approved it. With the deposits approved this veteran's last barrier to overcoming homelessness was eradicated.
Over 1,600 veterans housed – and two dogs.
We take care of our own.
"It's not just one heartwarming story, it's the total number. A lot of veterans now have a warm, safe place to sleep tonight because Veteran's Matter was able to come through and provide the deposit – without Veterans Matter our work would be much more difficult and many more veterans would be sleeping outside tonight."
— Erin Young
Cpl. Robert Pulliam, Ret.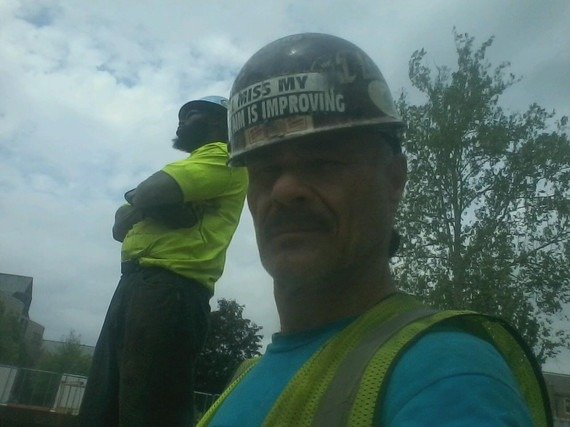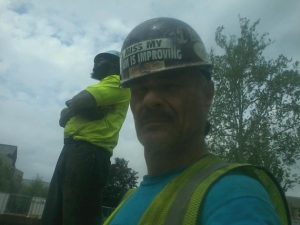 High on a steel beam with the city sprawled below, Corporal Robert (Bur) Pulliam, Ret., is far above the homeless camps and streets he once called home.
"Climbing up the beam and waiting for the column to come in," he told us, "I love it. It's quiet up there."
Like many professions, iron working is feast or famine. When there is work, Bur could make as much as $100,000 in a year.
In 2008 he was living and working in the Chicago area when the economy tanked. Suddenly, there was no work to be found.
"I got the rug yanked out from under me," Bur said. "I filed unemployment for the first time in my life."
When the benefits ran out, he turned to his savings account. By the time that was drained, Bur's wife filed for divorce, and his house was foreclosed on. His two daughters were grown and gone and he had lost touch with his brothers after their mom died. He was out of choices.
"So I packed a few things up and went for a walk. I didn't know it was going to last 18 months," he said.
Life on the Streets
Without an address and unable to find work, Bur divided his time between the city and the country. He says he preferred to be "out in the sticks" where he could set traps and didn't have to worry about police or other kinds of harassment. There was, however, a significant benefit to being in the city: the company of other homeless veterans.

Corporal Pulliam, RT, joined the Marine Corps on Dec. 27, 1979 and served until 1985. Before he was an ironworker, he was traveled the world as a Field Radio Operator with the Corps.
Thirty years later, he was one of thousands of homeless veterans living on the streets. He says it wasn't hard to find others.
"You could tell just by looking at them they were vets," he said. "You could tell by the way they carried themselves. It's the weird things. You can tell when someone's been in the military, especially another jarhead."
The veterans would stay together for a while, sometimes as many as a dozen of them at once. Bur says they ran a regular military setup, taking turns watching.
"When you're together like that, the cops hassle you," he said.
There was always the risk that they'd be arrested for vagrancy, so they didn't stay together long. The veterans would go their separate ways – Bur would head to the country – for a few months until they'd run into each other again.
Looking back now, Bur says what stays with him most about his time on the streets was being around the other veterans, and the problem dealing with police. Although he always managed to "flee and elude," not all the vets could.
"I saw cops beat the crap out of a couple guys just for being there," he said.
Welcome Home Soldier
One day, finally, help came. The Honorable Robert L. Miller, Sr., a former judge and retired lieutenant commander in the U.S. Naval Reserves, founded Miller's Vets, an organization and center for homeless veterans in South Bend, IN. Bur stayed there with other veterans who were trying to get back on their feet.
His VA social worker in South Bend, Hope Heritz, helped him find a HUD-VASH apartment to rent, but he was stuck in the shelter because he couldn't move in without a security deposit and his share of the first month's rent.
Only $650 stood as the barrier preventing him from crossing the threshold into his own home.
Veterans Matter – Operation Indiana
With funding raised through John Mellencamp's role as honorary chair for Operation Indiana, three minutes after Hope submitted the request for Bur's deposit on our cloud-based referral system we approved the $650 and the check was mailed to the landlord the same day.
Bur had come home.
Now with an address, he was able to reinstate his union iron-working card and get back on the beams. On weekends he also does the high stage rigging for many of the very same bands and artists who have helped Veterans Matter raise money and awareness. When he isn't working, he visits with his daughters, Dina and Delaney, and his two young grandchildren, Morgen and Davin.
Then There Was That Note
Bur would have been just one of the over 1,000 homeless veterans and veteran families we have now helped house had it not been for the note which struck a chord.
I called to thank him for the kind gesture and we hit it off instantly. He often sends me pictures from his "office" that day, usually from up on high.
Then There Was That Text
April 24, 2015 Bur sent me a text wanting our address to repay the money we provided to finally get him under a roof. I told him it was a gift from the American people to say thank you for helping us keep our domestic tranquility. It was the least we could do.
On behalf of Corporal Pulliam and all of the veterans who are homeless no more, we thank you America.
Charles Kincaid
At 67, Toledo, Ohio, Veteran Charles Kincaid has experienced more than his fair share of ups and downs since he left the military. That he survived, and is now thriving, is testament to his tenacity. It's also a tribute to a determined network of community supporters, who refused to quit on Kincaid.
Kincaid's life journey took a downturn starting in the 1990s, when he was incarcerated. Post-release, he experienced homelessness, a common occurrence for those re-entering society from prison. He rented a room in a home, a situation that lasted eight months, but Kincaid had trouble following house rules and moved out.
For a few years, Kincaid sheltered in abandoned garages to avoid the elements. These arrangements led to confrontations with security and police officials. Kincaid was told to move on or risk arrest.
Move on he did, making his way in temporary housing situations until things worsened in the summer of 2014. That's when Kincaid's identification, food stamp card and bank information were stolen by an unscrupulous minister. After the minister attempted to collect Kincaid's Social Security payments, his benefits stopped, leaving Kincaid with next to nothing.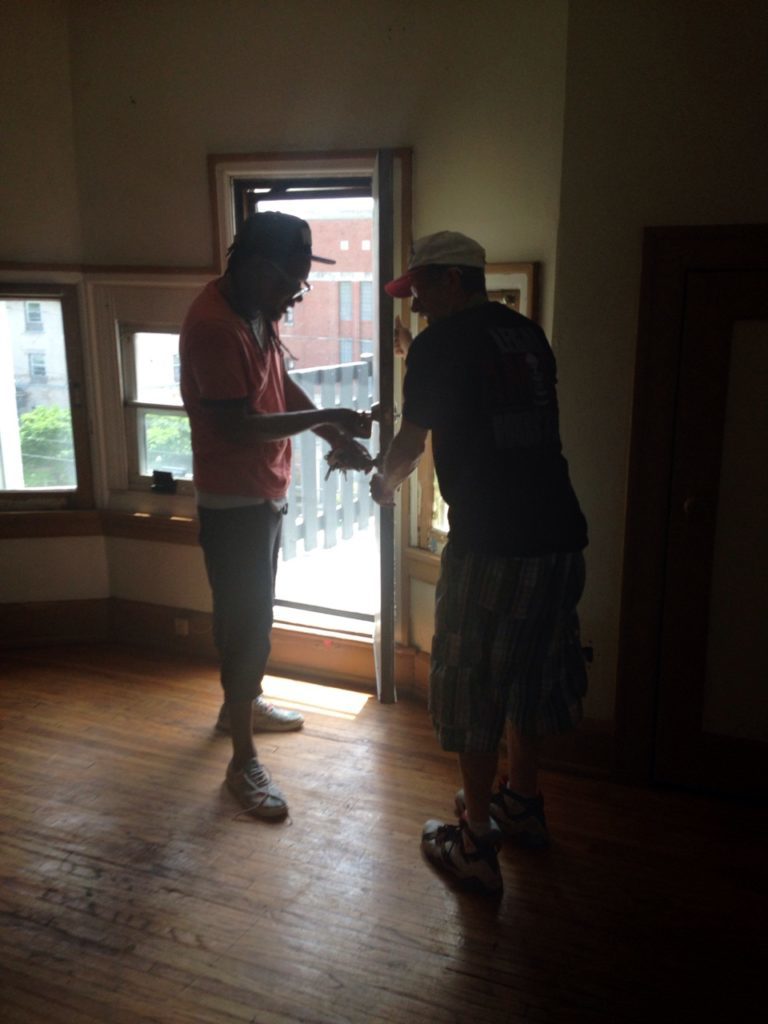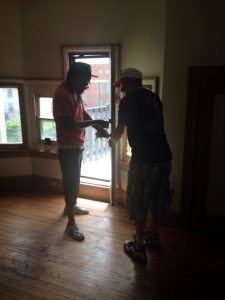 Building Trust
During these down years, I, along with various outreach staff from Ann Arbor (Michigan) Healthcare System's Health Care for Homeless Veterans (HCHV) program, came to know Kincaid. However, like many homeless Veterans of the Vietnam era, he didn't have a wellspring of trust for VA or for "officialdom" in general.
He kept us at arm's length, although we managed to provide him with various things he needed—food, clothing, sleeping bags, camping toilet, pillows, blankets, bikes, boots and shoes, and the like.
With Kincaid, we knew we had to build a relationship and earn his trust so he'd be open to taking the next, more difficult step to move to permanent housing.
Challenging Toledo to End Veteran Homelessness
By October 2015, Toledo city officials, social service providers and VA staff were heavily focused on ending homelessness among Veterans once and for all, as part of the Mayor's Challenge.
That process involved locating and listing every chronically homeless Veteran in need, and Kincaid was on the list. The Mayor's Challenge response team learned about Kincaid's background and was briefed on his schedule, where he asked the public for money, where he picked up side work and where he spent the day when it rained, was frigid or too hot.
Within weeks, Kincaid met the executive director of the Mental Health & Recovery Services Board of Lucas County outside its office building. He invited Kincaid to lunch, and they got to know each other. Kincaid started to trust the board's staff, who informed him of his housing options through VA. Within seven months, Kincaid agreed to apply for housing assistance through the Housing and Urban Development-VA Supportive Housing (HUD-VASH) program. He started looking at apartments.
Charlie Experiencing the Ultimate "Up" Day
By summer of 2016, things finally started looking up for Kincaid.
After serving time in prison and spending nearly three decades as a homeless Veteran, Kincaid had the ultimate "up" day on June 2, 2016: He moved into his own apartment.
It's a day VA could not have orchestrated without an array of partners, including Toledo's own Veterans Matter, which paid the deposit on Kincaid's apartment and the first two months of rent. This act of generosity literally bought Kincaid time to live in his new home while he completed the paperwork to secure his HUD-VASH voucher and lease. This was also made possible by his new landlord, who trusted Kincaid to get everything in order.
So many other organizations joined VA's mission to assist Kincaid, including the Veterans Service Commission of Lucas County, Toledo Lucas County Homelessness Board and Heroes in Action.
Kincaid is excited to build a new life in his own home, near his support system. As a community, we are here to support Kincaid's continued success—and make sure every day is an "up" day from here on out.
-by Shawn Dowling, LISW-S, ACSW, coordinator for the Healthcare for Homeless Veterans program at VA's Ann Arbor Healthcare System
A Vet and His Family
HUD-VASH Caseworker Cory Glasgow came to us with an OEF/OIF/OND veteran with a spouse and four children who were in need of our help. They planned to stay with family until they could save up for a rental deposit, but there were issues that resulted in them having to leave immediately.
They hadn't been able to save any money yet, and the two shelters in the area had no room for them.
"I was going to refer the veteran to our local agency for assistance but after talking to him realized he was going to have to get additional documents that he didn't need for Section 8 but would need for the local agency," Glasgow explained.
The veteran was discouraged that his family would have to live in their car until he could get his birth certificate and three months of bank statements.
"A referral was made to Veterans Matter instead and the veteran was able to get the deposit assistance in less than a day (well, the landlord got the confirmation email, which they took as proof of payment). The veteran was thrilled and subsequently found a job a couple of weeks later and is now several steps closer to supporting his family, which is his treatment goal," Glasgow said.
Thanks to advocates who believe veterans and their families should never have to sleep in their cars, the family was able to get into a place of their own right away.
A Home after 3 Years
Caseworker Larry Squires shared with us the story of a veteran who had been homeless for three years. Squires was with the veteran when he signed his lease with the landlord and then dropped him off at the library where he could check his email.
Squires said about 10 minutes after dropping him off, the veteran he called him in tears.sleep-tonight
"You know, as I was walking into the library I realized I have my own apartment and a key in my pocket," the veteran told Squires. "I know where I will sleep tonight. It seems like the stress of years of homelessness has been lifted off my shoulders. Thank you for helping me."
That sentiment goes to the good people at Veterans Matters, as well," Squires said. "Later he gave me a decoration to hang in my office. It has a house shape with a heart on it and says, 'HOME is a starting place for LOVE and DREAMS.'"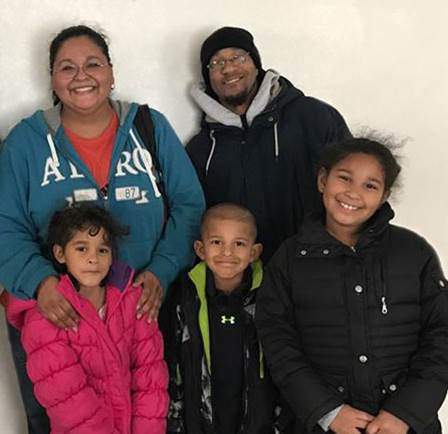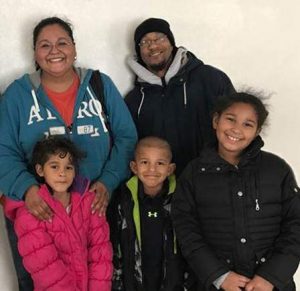 Ken Leslie – Facebook 12/2016
So to date (December 2016) Veterans Matter has housed over 1,250 veterans nationwide. Because of our structure we rarely get to meet the veterans in person.
We've been busting serious hump with the VA nationally to try to get as many veterans home for the holidays as we can. Yesterday we housed 10 more.
One of those veterans was a local Toledo-area family, a mom, dad and three children living in Beach House shelter. Yesterday, Shawn Dowling and Christie Kodjiku with the VA personally picked up and delivered the check to the landlord to get this family housed by Christmas.
We got a picture that the family and landlord took to say thank you. That picture, that one picture made all that we do (the VM team, Shawn Clark, Veronica Garcia Mora, Natalie Gaynier, and Lisa Runyan and all of the donors) worthwhile. It made it personal to us.
I shared that picture with Lee Armstrong with the Lucas County Veterans Service Commission which is one of our local partners helping us house local veterans.
Providentially Gene Americal with the VSC called me about a call he got from a lady relocating to another city and wondering if this family needed a household of furniture.
Meanwhile our friends at 13abc saw the Facebook post from yesterday, and Sanaa Orra wondered if the family would be interested in going on camera.
The family's response was "anything we can do to help other veterans on the streets is what we want to do." So this afternoon we got to meet one of the kindest families, with the cutest kids, being able to enjoy Christmas in a warm home, again because of your support. YOUR support. When you see the smiles on the faces it makes it oh so real, doesn't it.
Monday we will work on the furniture thing and I will post here for whatever else is needed for this sweet family.
Until then, Merry Christmas, and God bless us everyone.
"I found a veteran, literally living on the streets, with his very small dog and a bicycle … It is hard to imagine how he had been living in the streets and eating what meals he could from local churches and missions for over five years. [The] veteran was grateful to the point of tears, to be warm, in his own apartment, both for himself and for his small companion. Again, without Veterans Matter it would have taken much longer to house this veteran. But now he is warm and for the first winter in five years, he will not have to brave the cold of trying to survive living outside."
— Carolyn Bowers, HUD-VASH Indiana
"Veteran Matters housed my 80-year-old Veteran and his little dog 'Mikey'. This Veteran showed up to lease signing in a suit and tie. He melted the heart of his new landlord. Previously he was living in his van with the dog. Good work Veteran Matters, you came through for this Veteran BIG TIME! He loves the new apartment and stated, 'I hope I can stay here forever'."
— Amy Cannon
"I was with a veteran who had been homeless for three years. We signed his lease with the landlord and he asked me to drop him off at the library where he checks his email. About 10 minutes after dropping him off he called me in tears and said, 'You know as I was walking into the library, I realized I have my own apartment and a key in my pocket. I know where I will sleep tonight. It seems like the stress of years of homelessness has been lifted off my shoulders. Thank you for helping me.'
Well Ken, that sentiment goes to the good people at Veterans Matters as well. Later he gave me a decoration to hang in my office. It has a house shape with a heart on it and says, HOME is a starting place for LOVE and DREAMS."
— Larry Squires
Joel had been living in his car with his dog for two months when he met Shawn Dowling, his local VA Health Care for Homeless Veterans program coordinator. Dowling introduced Beach to Ken Leslie, founder of the VA partner organization Veterans Matter, and within a week, Beach had an apartment.
"This place is awesome," Beach said of his new apartment. "It feels good to do laundry and take showers — the basics — again."
Joel was featured in this national video produced by the VA detailing the results of the Veterans Matter partnership with the VA.
For Beach and other formerly homeless Veterans, housing is more than a roof over their heads — it is one major step toward a better life. Veterans can and do become homeless for many different reasons, such as a move to an area with more expensive housing, service-related trauma that leads to issues like substance use, or the loss of a job. Through VA and its range of community partners, homeless Veterans are housed and then given access to the specific resources they need to stay housed so that they can achieve their full potential.
"A veteran that was living out of his truck for more than 6 months … had zero income and was unaware of services offered by the Veterans Affairs. The Veteran did not have money necessary for security deposit, community services would not help due to the sustainably factor with zero income. Veterans Matter was able help this Veteran by paying his security deposit. Once in his own apartment, the Veteran was able to find work and continues to work on his recovery journey."
— Joseph Felice
"I was working with a veteran who finally decided to make a change and accept our assistance in securing housing. He was very motivated until the resources that were helping were putting him through a lot of hoops to help him with deposit and rent. The veteran was so discouraged that he almost chose to just live on the streets than having to be questioned and probed by the agency. Veterans Matter came along and helped him very swiftly. This veteran is now stably housed and is working our program with great success. I know that if VM would have not been available, he would probably still be on the streets."
— Jorge Ruiz